Oaxaca Day of the Dead 2022: The Ultimate Travel Guide
---
Is Dia de Muertos on Your Mexico bucket list?
Well then, you are indeed a wise traveler! Oaxaca (pronounced wa-ha-kah) is truly one of the best travel destinations in Mexico; one not enough people have experienced. Its most popular cultural celebration, Oaxaca Day of the Dead, is a bucket list Mexico experience for so many.
You've landed on the right article to learn all about how to plan your trip to Day of the Dead in Oaxaca, Mexico, because I went to the 2018 celebration. Now, I'm sharing all my Dia de los Muertos and Oaxaca travel tips, so you can have as amazing of a time as I did.
Let me just say from firsthand knowledge — It totally lived up to the hype!
By the end of this article, you're going to have a lot of knowledge about Oaxaca City, where the festival takes place. As Day of the Dead takes is just two days long, November 1-2, many stick around Oaxaca City for a few extra days, or head to the beautiful beaches of Oaxaca to lengthen the trip.
Besides that, you'll discover the history of Day of the Dead, the symbolism of things like ofrendas (altars), sugar skulls and La Catrina herself, which Oaxaca cemeteries to visit, and where to stay in Oaxaca City. In short, we're covering everything you need ton know for an epic Dia de los Muertos trip.
Ready to learn about all things Oaxaca Day of the Dead? Let's get to it!
Is Oaxaca Day of the Dead 2021 Canceled?
I have received a lot of messages about the Oaxaca Covid situation, and how it will affect Día de Muetos Oaxaca 2021. Now, I finally know — and the answer is that it's kind of canceled, and kind of still on. In short, it will be a scaled down version of Day of the Dead, but it's not fully canceled.
On October 12, 2021, the Oaxaca City government released a statement saying they will not allow "large scale celebrations," which likely means there won't be comparsas (parades), street parties and large ofrendas (altars) in downtown — though there are still locals offering smaller tours, like these:
If you're interested, book ASAP because everything will sell out!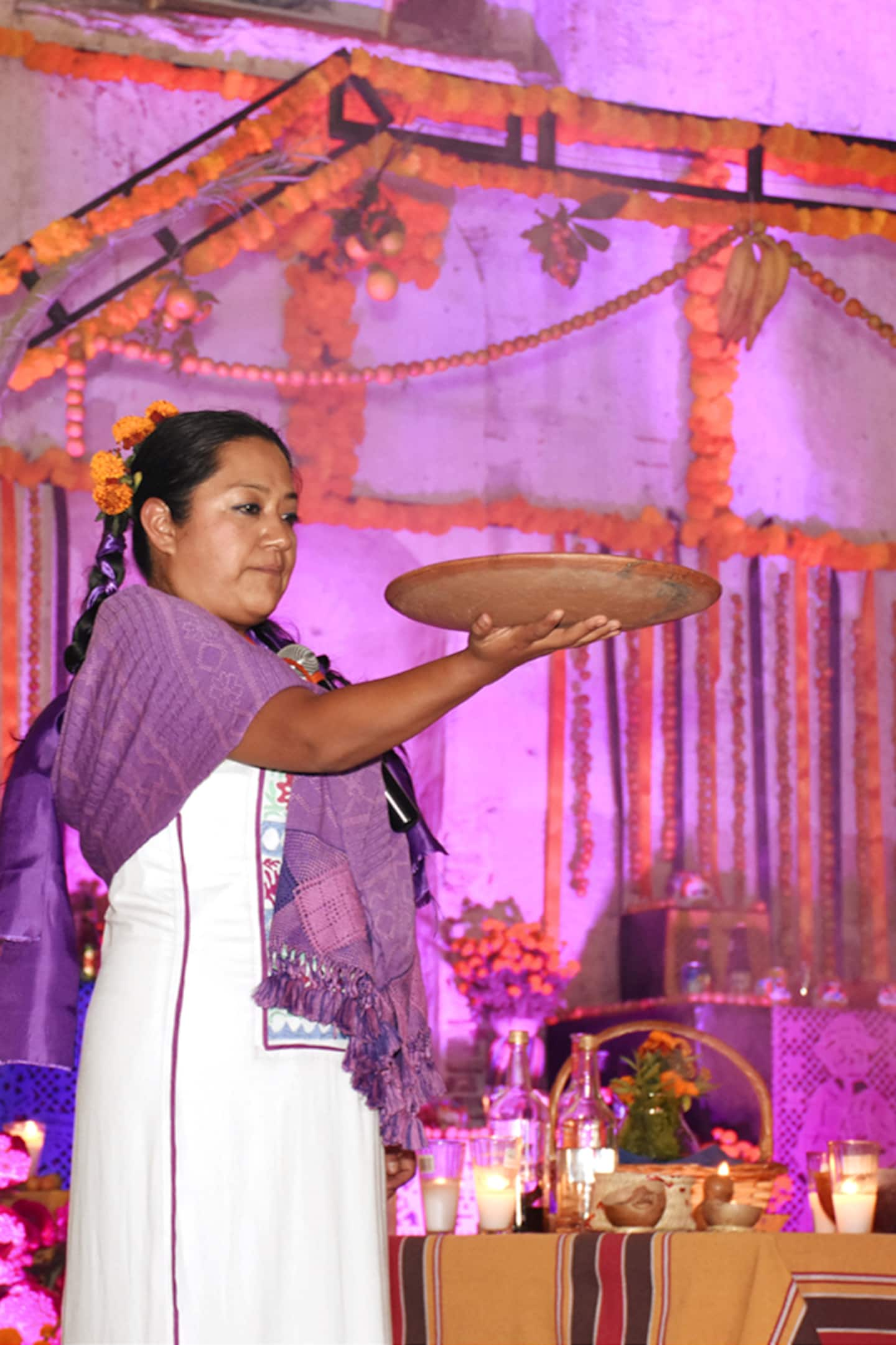 Planning for Oaxaca Day of the Dead 2022
Where is Oaxaca, Mexico?
Oaxaca state is located in south central Mexico, and Oaxaca City is in the center of the state. It is the capital city, as well as the cultural, historic, artistic and agricultural hub of all Oaxaca state.
You may hear Oaxaca City referred to by a few names. Officially, it's Oaxaca de Juarez, though most people say Oaxaca. As Oaxaca is both the name of the city and state, you may want to clarify when someone says "Oaxaca" as to where they are referring to.
Oaxaca Map
OAXACA DAY OF THE DEAD
How do I get to Oaxaca City?
Oaxaca International Airport (OAX), located just 20-30 minutes from Downtown Oaxaca, has direct flights from U.S. cities including Dallas/Fort Worth, Houston, LA and Chicago.
If you're already in Mexico, you can catch a connecting flight from Mexico City, Tijuana, Guadalajara, Cancun, and Monterrey. For those coming from the beaches of Oaxaca, check out this thorough guide, Oaxaca to Puerto Escondido & Huatulco: 5 Transportation Options.
Oaxaca Airport Transfer
For travelers who like you plan, you can book your Oaxaca Airport transfer with the options below ⤵. You can also grab a taxi or take the colectivo (small, shared van) once you arrive to once you arrive to OAX. The colectivo costs about $3-5USD per person, and a private taxi will be about $15-25USD total.
🚕💨 Oaxaca Travel Tip: There's no Uber in Oaxaca, but there are taxis and some public transportation options.
Oacaxa Car Rental
If you're just staying in the city, don't bother with a rental car.
For those who will need to rent a car in Oaxaca, double check the parking policy at your accommodation so that you won't have to pay extra to park.
If you're planning to explore Oaxaca before/after Day of the Dead, a car will certainly come in handy, and the airport is the best place for car rentals in Oaxaca City.
RELATED ARTICLE 🚕💨 Renting A Car in Mexico: Everything You Need to Know

RELATED ARTICLE 🇲🇽 4 Day Mexico City Itinerary: The Ultimate CDMX Travel Guide
Mexico City to Oaxaca City
Mexico City to Oacaxa Flights
Domestic flight travel within Mexico is quick, convenient, and relatively inexpensive on low cost carriers like AeroMexico, Volaris and VivaAerobus.
In general, the bus from Mexico City to Oaxaca costs about $40USD, and can take eight hours. However, you can often find Oaxaca plane tickets for as little as $50USD, for the one hour flight. Of course, the bus has less of a carbon footprint, so some travelers might opt for the bus over a flight.
Mexico City to Oacaxa Bus
Mexico City is located about 7-8 hours by bus from Oaxaca City, with overnight trip options. If you're looking into the buses, check for luxury class tickets through Mexico's largest bus company, ADO; the luxury tickets are a little more expensive, but a lot more comfy.
RELATED ARTICLE 🌯 Oaxaca Food: 15 Best Traditional Oaxacan Food & Drinks
OAXACA DAY OF THE DEAD
Oaxaca Day of the Dead Tips
There are two key things to keep in mind for Day of the Dead travel planning:
1. Book your accommodation as early as possible.
Oaxaca City is a smaller town, and eventually, all Oaxaca hotels, and also Oaxaca hostels will eventually sell out. If you have particular needs when it comes to where you stay (ie. no stairs, bathtub), book early so you find a place that checks those boxes.
2. Book your tours as early as possible.
If you're looking to do a Day of the Dead tour in Oaxaca, you'll want to book these well in advance also. For the most part, tours are kept small, and all end up selling out as well.
Where to Stay in Oaxaca: Neighborhoods & Best Hotels in Oaxaca
As they say — Location, location, location. Where you stay for Oaxaca Day of the Dead can either make, or break, your trip… so let's get you in the "make" column.
For convenience of both having lots of amenities like restaurants, bars and pharmacies, all within walking distance, consider any of the three Oaxaca neighborhoods below.
🚕💨 Oaxaca Travel Tip: There's no Uber in Oaxaca, though there are taxis. While taxis are usually easy to get, they take longer to hail during Dia de Muertos, the busiest time in to visit Oaxaca, Mexico.
Centro Historico (Downtown)
As with most cities, you can't go wrong staying in or around Centro Historico, the Historic City Center, or Downtown. This is the area most Day of the Dead festivities take place, and a walkable part of town, so you won't need to worry about catching a cab during this busy time in Oaxaca.
In Centro Historico, you'll find some of the best hotels in Oaxaca, like Quinta Real Oaxaca ($$$$), Hotel los Amantes ($$$), Hotel Casona Oaxaca ($$), and Selina Hostel ($), known as one of the best hostels in Oaxaca City.
Xochimilco
Beyond these two, Xochimilco (pronounced so-chee-mill-co), located north of Centro, is another one of the best neighborhoods in Oaxaca City. This is the oldest, most historic Oaxaca neighborhood, so you'll still get the colonial city feel in the buildings, but be further away from the crowds and noise.
🌺💀🌺 Oaxaca Travel Tip: Day of the Dead is LOUDDDD! You'll want noise canceling earbuds or noise cancelling earplugs to get a good night's sleep during this festive holiday.
Jalatlaco
Located one neighborhood over from Downtown Oaxaca, you'll find trendy, colorful Jalatlaco (pronounced ha-lat-lack-oh). This is a very safe ares, with amazing restaurants, cool street art and colorful, colonial buildings — like City Centro Hotel Oaxaca (below ⤵) and Hotel Cazomalli Oaxaca.
---
OAxaca DAY OF THE DEAD
Oaxaca Day of the Dead Tours
As a lot of Mexican companies don't have websites, so unless someone has recommended you a tour company by name, it's not super easy to locate Oaxaca Dia de los Muertos tours online.
Since this festival also doesn't have an official list of events posted online for you to research in advance, local tour guides are a game changer. They will know best to show you where to find the best cemeteries, comparsas (parades) and festivities taking place.
If you're wanting to do a group tour, and you don't want to spend hours (or days) searching for a Day of the Dead Oaxaca tour company, your best best is an Airbnb Experience — which you can book below right now.
These tours are all lead by Oaxaca locals, so you're in good hands. Here are a few of the best tours in Oaxaca City, with a heavy focus on Day of the Dead and other uniquely Oaxacan cultural experiences.
---
OAxaca DAY OF THE DEAD
What is Day of the Dead?
The first thing you need to know about Day of the Dead — it is not Mexican Halloween. Day of the Dead is, however, one of the most important holiday celebrations in Oaxaca, and in much of Mexico.
Unlike many present-day rituals around death, Day of the Dead is not a somber funerary event. On the contrary, Dia de Muertos is a celebration, one so grand even the deceased return to attend the party held in their honor.⁠
As this is a very cultural celebration, booking a tour with a Oaxaca City local is the way to go. However, even on days you don't have a tour booked, you can just walk around Centro Historico (Downtown) and take in the visual magic that is Dia de los Muertos in Oaxaca City.
OAXACA DAY OF THE DEAD
History of Dia de los Muertos
The holiday's origins date back to the Aztec celebration of the goddess Mictecacihuatl, their Queen of the Underworld. Much like the current incarnation of Day of the Dead, the Aztec festival was a celebratory affair.
After Mexican colonization by the Spanish, who brought with them Christianity, the festival was moved from early-summer to fall. It's new dates coincided with what Christians called Allhallowtide, another multi-day holiday commemorating the deceased.
Allhallowtide took place on October 31-November 2. The first day, October 31 was known as All Saints' Eve; November 1, was All Saints' Day; and November 2, was All Souls' Day.
OAXACA DAY OF THE DEAD
When is Day of the Dead?
Many want to know, what day is Day of the Dead? Though it's called "Day" of the Dead, the holiday takes place over two days each year, November 1-2, and the different days of the festival correspond to different spirits.
As the spirits of our departed are said to return each day at midnight, many celebrations take place at night — so you might see some sources say Day of the Dead is October 31-November 2. However, some celebrations start as early as October 28 in different parts of the state.
Since the first day of the celebration starts on November 1, the spirits will return at midnight, which is basically the night of October 31. Though this is technically the "eve" of Dia de Muertos, much like Christmas Eve, many consider it a festival day.
As you might imagine with such an elaborate affair, the Oaxaca City preparations begin at least a week prior. It's really fun to see the city getting decorated with marigold flowers and watching the ofrendas (altars) being constructed, and visiting the cemeteries during the day.
• October 31
Though not an official festival day, many families observe October 31, the former All Saints' Eve, by building elaborate ofrendas (altars) on the cemetery gravestone of their deceased loved one. As this is the eve of the souls returning, these preparations must be ready for the spirits' arrival at midnight.
What to expect: There's a lot of energy in town, as people are ready to officially celebrate after days and weeks of prep. Families visit the town's cemeteries to decorate their loved ones' graves and gravestones, and many put the finishing touched on the ofrendas (altars) outside of their homes on the street.
• November 1
What was formerly known as All Saints' Day, is present-day Día de los Inocentes (Day of the Innocents) or Día de los Angelitos (Day of the Little Angels). This day is said to honor the children who have passed. The spirits of the angelitos returned the night before, at midnight, but parties continue all day.
What to expect: More celebrations in cemeteries, as well as comparsas (parades), ofrendas (altars) in the streets and other city-wide festivities. Basically, the entire town is decorated and you'll want to consider just walking around for hours to eat delicious Oaxacan food and see everything.
🌮🍺 Discover the best Oaxaca restaurants! Head here to get a FREE Oaxaca Map with 33 places pined so you can easily find all the top restaurants, street food stands and Oaxaca mezcal bars.
• November 2
Formerly known as All Souls' Day, November 2 is the actual Day of the Dead day. On this day, families and loved one celebrate the adults in their life who no longer walk the Earth. The spirits of all adults returned the night before, at midnight, but parties will continue all day.
What to expect: More celebrations in cemeteries, as well as comparsas (parades), ofrendas (altars) in the streets and other festivities. This will often be the most lively day of the holiday.
---
OAXACA DAY OF THE DEAD
10 Day of the Dead Do's and Don'ts
🟢 Do: Book your Oaxaca Hotel (or Oaxaca hostel) and Day of the Dead tours well in advance!
🟢 Do: Participate! This holiday is about remembering the deceased, so (many) Oaxacan families love when you ask about their departed loved ones honored on the altars. When you see a parade going by, jump in and start dancing with the locals.
🟢 Do: Have a day where your only plan is to walk the city. During Day of the Dead in Oaxaca, the whole town is transformed for this giant party, so explore as much as you can while the decorations are up.
🟢 Do: Ask for permission to take photos. To err on the side of caution, get permission from families this in the cemeteries and at their ofrendas (altars), and when photographing people.
🟢 Do: Carry cash on you at all times. In Mexico, cash is still king — and in Oaxaca City, many places don't take cards. This is especially true with taxis, in local mercados (markets), and street vendors, which will all be cash only.
🟢 Do: Pack noise canceling earbuds or noise canceling earplugs to get a good night's sleep during this festive holiday. Day of the Dead is basically a three-day party with music and celebrations city-wide.
🛑 Don't: Treat this as a tourist attraction! Day of the Dead is a centuries-old cultural tradition, so have fun, but know this is not the same thing as getting wasted on Burbon Street during Mardi Gras.
🛑 Don't: On that note, don't wear American-style costumes, and especially not the "sexy" variety — this is Dia de Muertos in Mexico, not Halloween in the U.S. — and it has a different vibe.
🛑 Don't: Touch or disturb anything, including altars, cemetery decorations, and sand art on the ground.
🛑 Don't: Use flash photography anywhere. In fact, to be safe you'll want to just turn your flash from auto to off so it doesn't accidentally go flash at the wrong moment.
Day of the Dead Symbols & Customs
1. Day of the Dead Cemeteries
Oct. 31 is the date many families will begin to decorate gravestones in the cemetery. If you can swing it, try to be in Oaxaca City to see this, especially if you're into travel photography. The biggest of Oaxaca City's cemetery celebrations takes place at the Panteon General, also called the San Miguel Cemetery.
If you're venturing outside of Oaxaca City, head to the Panteon Viejo and Panteon Nuevo in Xoxocotlan and the Panteon San Agustin Etla in San Agustin Etla. Both towns are known for lively celebrations, though you'll want to have a tour booked, or transportation in place before going.
The pueblo San Agustin Etla, located about 35 minutes from Downtown Oaxaca, has the biggest, most wild comparsa and beautiful cemetery of them all.
I went with a small tour group booked through the Agrado Guest House Hotel, and we were probably among only of a handful of tourists at the San Agustin Etla comparsa.
OAxaca DAY OF THE DEAD
2. Day of the Dead Sugar Skulls
One of the icons of this holiday is the Day of the Dead sugar skull. Ironically enough, these confectionary treats don't really have Mexican (or even pre-Hispanic) roots, and come from Europe.
Italian Catholic missionaries brought sugar art to Mexico in the 1600s. Unlike Europe, Mexico is abundant in sugar and sugarcane, so it became a natural place for these molded sugar figures to take root and form their own traditions.
Small vs large sugar skulls
During Día de Muertos, sugar skulls will be made in two sizes. The smaller ones are often placed on a gravestone in honor and remembrance the departed children. These bite-sized ones can also be eaten, used for in-home ofrenda (altar) decoration, and can be taken home as souvenirs.

The larger ones represent a departed person, and that person's name is written on the forehead of the skull. You'll usually see these more elaborate, larger sugar skills placed on an ofrenda or gravestone for that person's returning spirit. These are not mean to be eaten.
3. Marigold Flowers
The marigold flower, or cempasuchil (pronounced sem-pa-souch-ill), has been a part of this celebration dating back to its Aztec origins. Throughout Mexico, marigolds are often referred to as flor de la muerto (flower of the dead) because of their close associations with the Day of the Dead holiday.
According to Aztecs beliefs, the flower's bright color and strong scent served a sensory guide for the spirits. They believed the marigold flowers let our departed know exactly where they should return to meet us.
Nowadays, no Day of the Dead ofrenda (altar) is complete without some cempasuchil flowers on it. You'll also see them all over Oaxaca City — on restaurant tables and as elaborate floral archways outside shops.
OAxaca DAY OF THE DEAD
4. La Catrina: Day of the Dead Skeletan Woman
Besides Frida Kahlo, La Catrina might be the woman most commonly associated with Mexico. This elegant skeletal lady, who everyone paints their faces to look like, was born in 1910 when Mexican printmaker/illustrator Jose Guadalupe Posada first drew her.
He named this figure, La Calavera Garbancera (The Elegant Skull), and she was drawn as satirical social commentary. His dapper woman with her fancy feathered-hat was a critique of Mexican society at the time, when many Mexicans were aspiring to dress and act more European.
Posada saw this as a snub to the more humble, and traditional style of Mexican dress. He created his Calavera Garbancera character as a skeleton who would serve as a reminder that we all eventually die one day — whether we're wearing fancy clothing or not.
History of La Catrina, Day of the Dead Icon
La Catrina's transition into the official grand dame of Day of the Dead came after Mexican artist Diego Rivera (AKA Frida's husband) painted her with a full-body and Victorian dress. Using a similar face, he took Posada's La Calavera Garbancera and created who would become known as La Catrina.
Rivera's 50-foot-long painting, Sueño de una tarde dominical en la Alameda Central (Dream of a Sunday afternoon in the Alameda Central), seen below, is the first-ever depiction of La Catrina. She is placed in the dead center of the painting (pun intended), with Rivera himself by her side.
OAxaca DAY OF THE DEAD
5. Comparsas (Day of the Dead Parades)
You'll hear a comparsa (parade, sometimes called muerteadas) long before you see it coming. This is great because it gives you time to find it and join in with the procession 🥁
Multi-instrument groups of costumed musicians join together to play festive Zapotec (native Oaxacans) music in the streets and lead processions throughout Oaxaca City.
The Grand Parade, or Magna Comparsa (seen in the Day of the Dead YouTube video below ⤵), is the one that opens the festival and goes all over the city. After this one, the smaller comparsas are either coming from, or headed to a cemetery, and you can join in with any you see passing by.
OAxaca DAY OF THE DEAD
6. Ofrendas (Day of the Dead Altars)
Just walking the streets and alleyways of downtown Oaxaca City, you'll see hundreds of ofrendas (altars). They are all decorated with marigold flowers, candles, copal incense and papel picado colorful paper flags.

You'll also see photos of their loved ones and whatever food and drink they would want to consume on their arrival. They say when the dead return they will be hungry and thirsty from the journey, so we have to prepare accordingly.
7. Day of the Dead Sand Tapestries
In front of some ofrendas throughout Oaxaca City, you'll find colorful and intricate tapetes de arena (sand tapestries). If you're very lucky, you'll even see as artist making one.
The tradition of sand art plays into the deeper meaning of Day of the Dead, that all things eventually blow away in the wind, or die. For this reason, you'll also see ground art made of other natural materials the wind can carry away, like marigold flower petals and even beans.
🌼 Oaxaca Travel Tip: Each year, a different neighborhood hosts the annual Sand Tapestry Competition, so make sure to find out where the Oaxaca Day of the Dead 2022 one will be.
OAxaca DAY OF THE DEAD
8. Pan de Muerto (Day of the Dead Bread)
Pan de muerto (bread of the dead) is a type of bread roll/pastry that's traditionally only made from about mid-September to mid-November for Day of the Dead. In Oaxaca, unlike the rest of Mexico, there is a small candy face placed in the center to represent a departed soul.
However, in many other parts of Mexico, the dough of the pan de muerto forms a cross shape on the top of the roll, and it's topped with sugar. In Oaxaca City, the bread is topped with sesame seeds and isn't as sweet. To sample some, head inside a panaderia (bakery) or be on the lookout for a street vendor.
OAxaca DAY OF THE DEAD
Oaxaca, Mexico Travel FAQs
Is Oaxaca safe for travel?
Short answer: Yes — for most visitors, it Oaxaca is safe for travel.
Longer answer: Aside from drinking too many mezcales, you're in little danger in Oaxaca. In fact, Oaxaca, is one of the safest states in Mexico. Oaxaca City is the country's 67th largest city, with a population of about 275,000, but retains a humble pubelo (small town) vibe.
As no place on Earth is 100% safe, you'll want to follow the 10 General Travel Safety Tips below — you know, the same ones you'd follow when traveling anywhere. You should also register for the STEP Program and put your mind at ease with travel insurance.
Oaxaca SOLO TRAVEL
I attended Day of the Dead as a solo female traveler in Oaxaca, and felt very safe. However, I've done a lot of Mexico solo travel, and likely have a biased opinion. In an effort to add more solo female travel in Mexico voices to the conversation, check out Rebecca's first hand account of safe solo travel in Oaxaca.
Mexico Podcast: Tips for Mexico Solo Female Travel Safety
OAxaca DAY OF THE DEAD
Do Americans need a visa for Mexico?
No, U.S. passport holders don't need a visa to travel to Mexico. This is just one of the reasons to visit Mexico, especially as one of the best travel destinations for United States travelers.
When you arrive in Mexico and go through Immigration, you'll receive a 180-day (6 month) FMM tourist card. This is a small piece of paper that you need to hold on to so you can give it back to an Immigration officer when you leave the country, so don't lose your FMM!
What do I pack for Oaxaca?
For the most part, Oaxaca weather averages 80-90F° during the day, and 60-70F°s at night. With Oaxaca's sunny, hot days, definitely pack a Water-To-Go Bottle to stay hydrated, eco-friendly sunscreen to avoid sunburns, and if you plan on drinking a lot of mezcal, anti-hangover meds!
As far as how to dress, Oaxacans are modest dressers, so pants/jeans with sleeved tops are the norm, even on hot days. However, sundresses, flowy, breathable, cotton, and light-colored clothing works. At night, you'll want a jacket and boots in Oaxaca City.
Packing for Day of the Dead in Oaxaca
Since it's Dia de Muertos, you might want to pack a special dress or outfit (or both!) to enjoy the nighttime festivities — like the ones below ⤵ You can also head to a local Oaxaca City mercado (market), like Mercado 20 de Noviembre and Mercado Benito Juarez, to buy a dress.
Costumes are the norm for locals, and many do go all out, with traditional Oaxacan garments and face painting. However, this is not the place for American style costumes, and overly skimpy outfits.
You don't need to bring all your makeup for La Catrina face painting, as you can just pay someone about $50 pesos ($3USD) on the street to do it. You, however, will want a good makeup remover.
You'll also find plenty of vendors selling inexpensive flower crowns to complete the look — or you can go all out with one of these elaborate flower crown headbands 🌸 You can also try your luck at one of the Oaxaca mercados mentioned above, as you'll sometimes find vendor selling fresh flower crowns.
🧳 FREE Printable Packing List for Mexico
Wondering exactly what to pack for Oaxaca and all of Mexico? Download your FREE printable packing list for Mexico below! This multi-page Mexico packing checklist covers everything you'll want to bring, and more importantly, what not to bring to Mexico.
---
OAxaca DAY OF THE DEAD
Final Thoughts: Oaxaca Day of the Dead
Is Day of the Dead in Oaxaca worth It?
As it will take at least two flights, or a flight and a bus to get to, you might be wondering if traveling to Oaxaca Day of the Dead worth it.
The short answer is… Can we curse around here!?… because FU+K YES IT IS.
Oaxaca, in a word, is magical. Oaxaca is the Mexico people imagine Mexico to be. This state has it all: rich history, gorgeous beaches, colorful festivals, UNESCO World Heritage Sites, locally-made mezcal, beautiful nature, colonial architecture, artisan communities — and of course, the food!
Mix all that with one of the most fun, beautiful, lively, cultural festivals on the planet, and you can't go wrong with a Oaxaca trip to Dia de Muertos.
a word of warning!
The only caveat for going to Oaxaca Day of the Dead is you have to actually plan in advance. Oaxaca is a small town, and its hotels, hostels and Oaxaca Airbnbs will sell out, and so will all the Day of the Dead tours. If you make sure to book everything in advance, you're in for the trip of a lifetime 🌺💀🌺
Day of the Dead Mexico podcast
Loved this article? Pin it for later ⤵
Please join me on my Solo Travel & Mexico Travel adventures