Bacalar Mexico: Ultimate Bacalar Lagoon Travel Guide [2022]
---
Traveling to Bacalar Lagoon, Mexico?
You're in the right place to learn everything you need to know about the pueblo magico (magic town) of Bacalar Mexico! Though technically a pueblo (small town), there are quite a few things to do in Bacalar, including a blissful swim in beautiful Laguna Bacalar (Bacalar Lake or Bacalar Lagoon).
Bacalar Lagoon has earned the nickname, the Maldives of Mexico, after the Instagram famous Maldives Islands, and their crystal-clear blue waters. The Mayans native to this part of Mexico call Bacalar the Lagoon of Seven Colors, because they say you can see seven shades of blue in the water.
👀 What do you think? Can you spot them all in this Bacalar video ⤵
Located in the Yucatan Peninsula, Bacalar is only a few hours from many of Mexico's best Yucatan travel destinations — Tulum, Merida, Playa del Carmen, Valladolid, Cancun and more. Bacalar is in the state of Quintana Roo, Mexico, and only about 30 minutes from the Belize-Mexico border.
As more and more people discover this Mexico hidden gem, it is quickly becoming a must visit Yucatan destination, and finding its way to the top of many a Mexico bucket list.
In this article, you'll learn everything you need to know about how to visit Bacalar Lake! From where to stay in Bacalar (including the best Bacalar hotel, Mia Bacalar Resort & Spa), the best restaurants in Bacalar, and how to get to Bacalar, Mexico — consider this your Ultimate Bacalar Travel Guide.
Ready to travel to Laguna Bacalar?! Let's get to it!
Things to Do in Bacalar Mexico Map
For your travel planning convenience, all places mentioned in this blog have been pinned to this Bacalar map for you! ▶︎ Check out all the best Bacalar things to do here!
Here, you'll find all the best things to see in Bacalar, including historic Fort San Felipe Bacalar, waterfront restaurants, cafes, Bacalar cenotes… basically everywhere you want to go in Bacalar and best all the best things to so you'll have an amazing Bacalar vacation!
Where is Bacalar Mexico located?
Bacalar is located in the southern part of Quintana Roo state, in southeast Mexico's Yucatan Peninsula. The closest beach to Bacalar is Mahahual on the Costa Maya, which has some of the best Mexico beaches in Yucatan.
In fact, Bacalar is so far south that it's just 30-45 minutes from Belize. Many use Bacalar as a last stop in Mexico before continuing their international travel through Central America, as you can take the bus from the nearby city of Chetumal, if you're planning to travel from Bacalar to Belize.
Bacalar Map
How to Get to Bacalar Mexico
Flights to Bacalar Mexico
The closest Bacalar airport is Chetumal International Airport (code: CTM), located less than 45 minutes away. This is a smaller airport, and you'll likely need to take a connecting flight through either the Mexico City, Cancun or Guadalajara Airports.
🚐💨 Chetumal to Bacalar: From Chetumal, you can take this inexpensive private transfer service, rent a car and drive to Bacalar, take a taxi or the ADO bus.
Cancun to Bacalar Mexico: Transportation Options
Though Chetumal Airport is closer, most travelers find it easiest to fly into Cancun International Airport (code: CUN). From there, you have several options on how to make the 4.5 hour trip south to Bacalar.
From Cancun Airport, you can hire a private transportation company (I recommend Cancun Airport Transportation), drive your rental car or take the ADO bus to Bacalar. The shuttle will meet you in the terminal, and there are rental car companies and ADO buses right at Cancun Airport.
Cancun to Bacalar Private Shuttle
The easiest way to get from Cancun Airport to Bacalar is by private transportation shuttle. You can book below with Cancun Airport Transportation, a Tripadvisor-backed company — and an English-speaking driver will pick you up inside the airport, and then drive you right to your accommodations in Bacalar!
Driving to Bacalar Mexico
Planning on renting a car in Mexico? Smart choice! In fact, many travelers will do a Yucatan Peninsula road trip in this part of Mexico, so they can see as many of the best places in Yucatan as possible in one trip. This part of Mexico is safe to drive in, but do check out these 10 Mexico driving tips.
🚙💨 When booking your car online, I recommend and personally use Discover Cars. They are great because they search both international companies, and local Mexican companies, so you get the best rates. ▶︎ BOOK HERE WITH DISCOVER CARS!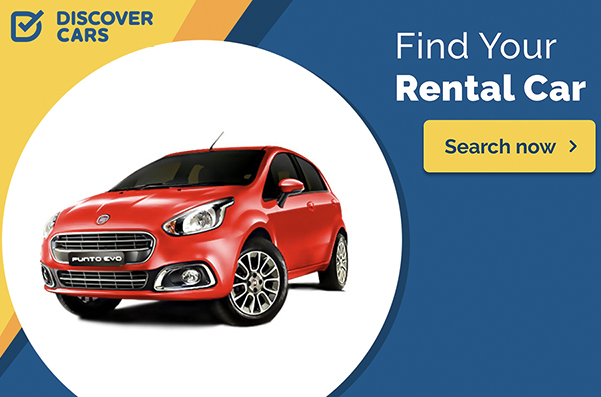 Discover Cars also provides ratings for all companies, so you can eliminate ones that don't have a good reputation. Finally, you can buy insurance right from them, so you're not surprised with an exorbitant and unexpected bill when you pick up the rental car (ie. the Mexican car rental scam).
🚗💨 Bacalar Mexico Travel Tip: When driving in Yucatan, your cell signal will likely go in and out. Make sure to also download an offline map via Google Maps, as well as some Mexico podcast episodes!
Cancun to Bacalar Drive
From Cancun, Playa del Carmen, Puerto Morelos, and Riviera Maya, you just take Highway 307/Chetumal-Cancun all the way south to Bacalar. The drive from Bacalar Mexico to Cancun (and the surrounding areas) will take about 4-4.5 hours.
Tulum to Bacalar Drive
From Tulum, take Highway 307/Chetumal-Cancun all the way south to Bacalar. The drive from Bacalar to Tulum will take about 2.5-3 hours.
Merida to Bacalar Drive
From Merida, there are a few more highway changes, but still quite an easy drive if you follow the map route. The drive to Bacalar from Merida will take about 4.5 hours.
Taking the Bus to Bacalar Mexico
Mexico's largest bus company, ADO, has trips from basically everywhere in Quintana Roo state and the Yucatan to Bacalar. The price will vary depending on your origin point, but figure about $700-1,000 pesos ($35-50USD) for roundtrip tickets.
There is only one bus station in Bacalar, and once you arrive there will be taxis waiting outside. Make sure you negotiate and agree on the price before getting in the car; keep in mind this is the same way taxis operate in all of Mexico.
🚕💨 Bacalar Mexico Travel Tip: There is no Uber in Quintana Roo state, so make sure you have pesos for taxis.
Cancun to Bacalar Bus
There are a few bus stations in Cancun, and most offer trips to Bacalar. If you're flying into Cancun, you can take the ADO bus directly from the Cancun Airport to Bacalar.
Playa del Carmen to Bacalar Bus
There's only one bus station in Playa del Carmen, located on La Quinta Avenida (5th Avenue) and Avenida Benito Juarez, near the ferry dock and Founder's Park. From there, you can take a bus directly to Bacalar.
Tulum to Bacalar Bus
If you're taking the bus from Tulum to Bacalar, there is only one bus station in the city. It is conveniently located in Downtown Tulum (AKA Tulum Town), so you'd go from there.
Merida to Bacalar Bus
From Merida, you'll depart from the main bus terminal in downtown, Terminal de Autobuses de Merida, abbreviated as either TAME or CAME. There are sometimes buses that go from the or the Paseo 60 bus terminal on Paseo de Montejo, though they are less frequent.
Where to Stay in Bacalar
For Bacalar accommodations, you have two options — stay on (or just off) the lake, or stay in Downtown Bacalar (AKA Bacalar Town or Bacalar Centro). They are about 10-15 minutes away from one another by rental car or taxi. Note: There's no Uber in Bacalar, and no Uber in Quintana Roo Mexico.
🏝 Looking for Bacalar overwater bungalow? Check out Akalki Bacalar Resort.
While staying on the lake can be more expensive, you'll save by not having to cab in and out of downtown each day because there's not much to do in downtown, and the reason everyone goes to Bacalar is for the lagoon.
If you're doing Bacalar on a budget, there are some great hostels in Bacalar right on the lake, but there are also high end resorts in Bacalar. Keep scrolling to discover all the best Bacalar Mexico hotels, Airbnbs, hostels and Bacalar Mexico resorts — because travelers on any budget can enjoy Bacalar Laguna.
Best Bacalar Hotels & Resorts
A few years ago, Bacalar was a sleepy town. However, it's fast becoming one the must visit Yucatan Peninsula destinations. The accommodations in Bacalar are also starting to reflect this as well, and the best resorts in Laguna Bacalar Mexico really know how to cater to a luxury traveler.
Best Bacalar RESORTs
Mia Bacalar Luxury Resort & Spa: Even though it's not technically an all-inclusive resort, you'd really never need to leave the Mia Bacalar property. It is located right on the lagoon, has an onsite restaurant, pool bar, room service, and even a spa! Quite honestly, it's one of the nicest Laguna Bacalar hotels.
Best Bacalar Mexico all inclusive resorts
La Albarina: This grand 5 Star resort has beautiful rooms and bungalows, with direct lagoon access. Lay in a hammock or lounge chair by the water, or do some Bacalar kayaking just steps from your room. Also enjoy the onsite restaurant, with complimentary breakfast. Note: Adults only at this Bacalar all inclusive.
Best hotels in Bacalar
MBH Maya Bacalar Boutique Hotel: Check out the view below of this gorgeous hotel — one of the newest and best hotels in Bacalar. Enjoy a resort-style experience at hotel prices at Maya Bacalar with it's beautiful views, rooms, onsite restaurant, Xant-Ha, and spa services.
Casa Shiva: The place for Bacalar Mexico glamping! Wondering just what is glamping? It's what you get when you mix luxurious glam with rustic camping to live your best eco-chic life! Enjoy shabby chic villas and luxury yurts at this Bacalar Lagoon resort.
Best Bacalar Hostels
Bacalar Mexico is very popular with budget travelers and backpackers, as the town is overall pretty inexpensive to visit. It also happens to have some of the nicest hostels in Mexico, many of them located right on the lake. Check out these three best hostels in Bacalar ⤵
11 Best Things to Do in Bacalar Mexico
You might be wondering, What's so special about Bacalar? The answer is: Lake Bacalar. As you might have gathered, the main things to do in Bacalar involve being in, on, and around the lagoon.
There are also some cenotes near Bacalar that you'll want to check out, and a couple of notable things to see in Downtown Bacalar. Located just outside of town, there are also Mexico Mayan Ruins near Bacalar, and also a nearby Mexico beach town you can check out.
Bacalar Boat Tours
As mentioned, Lake Bacalar is the second largest freshwater lake in Mexico — large, as in, 26-miles-long. The best way to see it all is by boat on one of the Bacalar tours, seen below ⤵
On nearly all tours of Bacalar Lagoon, you'll take a motorboat or sailboat ride to see some of the lagoon's best sites. These best things to see in Bacalar include the Canal de los Piratas (Pirate's Channel), Cenote la Bruja (Witch's Cenote) and Isla de los Pajaros (Bird Island).
Kayaking in Bacalar Mexico
Want a more sit-down type of activity? Besides standup paddle boarding, Lake Bacalar kayaking is very popular as well. Like the paddle boards, most Lake Bacalar hotels, resorts and hostels have free or rental kayaks on site, or you can go with a tour.
🛶 Want to take a Bacalar kayaking tour? Check out the Bacalar Sunrise Kayak Tour!
Your hotel or hostel staff can also give you an overview of how far away from your accommodation venture while kayaking Bacalar Lagoon. Since the lake is so huge, you'll want to have an idea of how far you're planning to head out, keeping in mind you have to kayak that exact distance back.
SUP Paddle Boarding in Bacalar
Ever wanted to try standup paddle boarding (SUP)? Bacalar is the perfect palace because of the lagoon's calm water. Many Bacalar Airbnbs, hotels and hostels have SUP boards available for free or rent. Also, several companies in Bacalar offer lessons, tours, and sometimes even SUP yoga classes.
Best Bacalar Cenotes
In case you're wondering What is a cenote? — they are basically underwater sinkholes filled with the fresh water that flows beneath the entire Yucatan Peninsula. In total, Mexico has about 6,000 cenotes!
There are a few cenotes in and around Bacalar, with three of them in the lagoon itself:
Cenote la Bruja (Witch's Cenote): Located inside of the lake, many of the boat tours will take you to see this cenote. Sometimes called Cenote Negro (Black Cenote), the water here is about 250-feet-deep so they don't encourage swimming in it, but you will see the dark blue, almost black, water beneath you.
Cenote Cocalitos: Head to Cocalitos balneario (beach club) to swim in this cenote.
Cenote Esmerelda (Emerald Cenote): You'll find this cenote in Laguna Bacalar, between Cenote Cocalitos and Cenote la Bruja.
Cenote Azul Bacalar
Besides Bacalar Lagoon itself, the second most popular place to swim is Cenote Azul (Blue Cenote). It is also one of the deepest cenotes in the Yucatan Peninsula, at about 300-feet-deep (91.5 m)!
Cenote Azul is not connected to Bacalar Lake, but makes for another great place to spend the day, as there's an on-site restaurant, lockers for your stuff and bathrooms.
💙 Mexico travel tip: There is also one of the Tulum cenotes named Cenote Azul, so make sure you're always looking at info about the Azul Cenote in Bacalar!
Bacalar Beach Clubs (Balnearios)
It's so hard not to call these beach clubs, but Bacalar is definitely not a Mexico beach! The technical name for these not-beach clubs is balnearios — and no trip to Bacalar is complete without checking out at least a few balnearios (listed below ⤵).
♻️ Bacalar Travel Tip: Only use eco-friendly, reef safe sunscreen when swimming in Bacalar to practice sustainable tourism in Mexico!
They vary in degrees of luxury or rusticness, but all will be located directly on the lake, and have some form of chairs or day beds, hammocks, food and drink options, usually music playing, bathrooms, etc. In short, spending that day at a balneario is among the best things to do in Bacalar during the day.
Best Balnearios in Bacalar Mexico
Cocalitos Bacalar: Perhaps the most rustic, but still, there's something so charming about this place. Here, you'll see one of the two cenotes in Laguna Bacalar, Cenote Cocalitos, as well as a bunch of stromatolites.
Los Aluxes Bacalar: This isn't a proper balnearios, but the Los Aluxes hotel has all the fun water stuff Bacalar is known for, including water hammocks and swings and a picturesque dock going out onto the lagoon. If you're not a guest, you can come after 10am to enjoy the facilities.
Bacalar Beach Club: Arguably the nicest and best beach club on Bacalar Lagoon! Bacalar Beach Club has gourmet food, comfy lounge chairs and tables, a pool, jacuzzis, a bar, nice bathrooms; basically everything you'd want in a balneario.
Balneario Municipal El Aserradero: This is a public pier, with a some nice lakeside docks to lay on. Besides the wooden docks and straw palapas to provide shade, there's very few other amenities here — but it is free to get in!
Los Rapidos Bacalar
Located on the southern end of the lake Los Rapidos (The Rapids) is one of the most popular places to spend the day. It is also a Bacalar balneario, but located far enough away from all the others that you'll have to grab a taxi and plan to spend a good part of the day there.

At Los Rapidos, there's a restaurant, bar, kayak rentals, water hammocks, swings, bathrooms, and as the name implies, fast-moving rapids you play in! If you get there early enough, you can grab one of the beds by the edge of the lake, where you can hang out all day.
Fuerte de San Felipe Fort (Downtown Bacalar)
While not a very large area, there are a few things to do and see in Downtown Bacalar. Three of the top things to see are the Parroquia de San Joaquin (Saint Joaquin's Parish), an 18th Century Spanish colonial church, the big, colorful Bacalar letters sign and the Fuerte San Felipe Bacalar (historic fort).
If you do a Bacalar boat tour, you'll definitely go see the Canal de los Piratas (Pirate's Channel). Back in the day, this part of Mexico was very susceptible to pirate attacks. However, nowadays as pirates have become less of an issue, visitors can see the fort and cannons once used to defend the town.
Bacalar Zip Lines at Tirolesas Kan K'in
While there's peace, quiet and relaxation on the lake, adrenaline junkies will want to head to Tirolesas Kan K'in Park to enjoy their ziplines. They have numerous ziplines, offering great views of the lake and surrounding Mayan jungle tree canopy, and you can also do some Bacalar hiking at the park.
Head to Mahahual Beach & Xcalak
While Bacalar Lagoon does look like a beach, it is in fact, a lake! If you want to visit a real Mexico beach, head to the towns of Mahahual and Xcalak. Mahahual, Mexico, located on the Coasta Maya, is one of the best Mexican Caribbean beaches for snorkeling, while Xcalak is great for relaxing.
🚙💨 Bacalar is located about 1.5 hours from Mahahual by rental car or on the Bacalar to Mahaual bus!
Mayan Ruins Near Bacalar
Want to visit some Mayan Ruins in Mexico? There are a few Mayan archeological sites near Bacalar — like Chacchoben, Kohunlich, Dzibanche, Oxtanka, Kinichna and Santa Rita. Those wanting to visit Chichen Itza should know it's a quite far from Bacalar, so you'll want to consider the ruins close to Bacalar.
Chacchoben Mayan Ruins: (Pronounced cha-cho-ben) Among the most visited of all Mayan ruins Costa Maya Mexico, there are three excavated and restored pyramids — with the largest one containing ancient Mayan hieroglyphic writing.
Kohunlich Mayan Ruins: (Pronounced koe-hoon-leech) A popular day trip from Bacalar, the Kohunlich Ruins are located about two hours away. Deep in the jungle, you'll probably hear and see some howler monkeys as you walk amongst these ancient Mayan structures.
Best Restaurants in Bacalar Mexico
Looking to sit down and have a nice dinner? Though it's a small town, don't underestimate Bacalar in the food department. As with most of the Yucatan Peninsula, fresh seafood reigns supreme, though there's a decent number of vegan restaurants in Bacalar to try.
🍽 Want a unique Bacalar dining experience? Book the Laguna Grill Boat, where a chef cooks for you aboard a boat on Bacalar Lake!
Sisimite Caverna Moderna: The interior was made to look like a cave-meets-disco, and the food and drinks are just as fun.
Nao Sushi Bacalar: Nao is the place to get the best sushi in Bacalar. They have unique and traditional rolls, and being that you're in the Yucatan, the seafood is always fresh.
La Playita: A lush jungle oasis on the lake! La Playita Bacalar is kind of a restaurant-meets-beach club, and it's one of the nicest places you can eat at before hopping in the water.
Nixtamal: While Bacalar seems to be big on ceviches and refreshing dishes, you can get your cooked meat fix at Nixtamal Bacalar, which specializes in grilled dishes.
Pizzeria Bertilla: Little known fact, but Mexico has a pretty sizable Italian expat population, including the owner of Pizzeria Bertilla. They specialize in brick oven pizzas, but serve delicious pasta dishes also.
Cerveceria Bacalar: The only brewery in Bacalar! If beer's not your thing, they also have fun cocktails, and a fun atmosphere overall. By night, Cerveceria Bacalar becomes one of the best bars in Bacalar.
🥃 Check out the Cultural Mezcal Tasting Experience for a curated adult beverage experience, and a chance to sample some local mezcal!
Best Cafes in Bacalar
Looking for a casual cafe to eat breakfast, brunch or lunch? Check out these places, known as some of the best places to eat in Bacalar. Traveling alone to Mexico? Check out this article, Eating Alone While Traveling: How to Overcome Solo Dining Fear.
Mango y Chile: The best vegan restaurant in Bacalar. Head there to try their famous veggie burger, loved by carnivores and vegans alike, and a large selection of yummy vegan desserts.
La Piña: A favorite among locals and visitors. La Piña has nice views of the lagoon and serves fresh food to match the natural environment vibe. Enjoy pita sandwiches and pizzas, with plenty of vegan options.
Marisquería El Taco Loco: The place for fish tacos, ceviches, whole fried fish, and basically all things seafood. Sample one of the dishes made a la pil pil, (with onion and herbs), the house specialty.
El Manatí: One of the most famous cafes in Bacalar, so during peak times, you can expect a bit of a wait. The tropical ambiance is beautiful though, so you can always enjoy the beautiful nature and cool artwork before your food arrives.
Mi Burrito: If you want a burrito in Bacalar, you're going to want to head to Mi Burrito Bacalar. This is a food truck, but there's outdoor seating at tables under a covered, shaded palapa.
Bote de Leche: From the outside, it looks pretty unassuming, but one you enter, the ambiance is artsy and adorable. The food is shockingly gourmet for Bacalar, and honestly, this cafe feels like it was plucked straight from a big city. It is small — and amazing — so don't be surprised if there's a wait.
Ixchel Bacalar: Ixchel serves traditional Mexican plates, but with a slightly more gourmet presentation. Head there for the delicious chilaquiles, molletes and huevos rancheros, three Mexican breakfast staples.
Lake Bacalar Mexico Travel FAQ
How many days do I need in Bacalar Mexico?
This will depend on you! Travelers who love relaxing, love nature and don't need a big party scene will love spending up to a week in Bacalar. However, as Bacalar is a pueblo magico, which means "magic town" or "magic small town," you can see the whole town and the lake with two full days.
Regardless of if you plan to spend two days or a week, I do advise not to do it as a Bacalar day trip. This town is too far from most other places in the Yucatan Peninsula that you'll want to at least spend one night in Bacalar at one of these best Bacalar accommodations.
If this is only a quick trip to Bacalar for you, consider a boat tour of the lagoon and/or a visit to the Los Rapidos Bacalar — as the must do Bacalar things to see.
Is it Called Bacalar Lagoon or Bacalar Lake?
Laguna Bacalar (Bacalar Lagoon) is actually a lake, not a lagoon! If you see it sometimes called Lake Bacalar in English, now you know why. The correct name in Spanish, however, is Laguna Bacalar — but really, both Bacalar Lake and Bacalar Lagoon work.
It is the second largest freshwater lake in Mexico, after Lake Chapala in Ajijic, Jalisco. While nicknamed the "Maldives of Mexico" because of its gorgeous blue water, Bacalar's freshwater, unlike the saltwater surrounding the Maldives Islands, means your eyes won't burn when swimming. 🧜‍♀️Win!
Does Bacalar Lagoon have seven colors?
The original inhabitants of this part of Mexico, the Mayans, nicknamed Bacalar the Lagoon of Seven Colors (or the Lake of Seven Colors). They say you can see seven distinct shades of blue in the water throughout the lake.
Why is the bacalar water so blue?
The reason for the extreme variations in colors is because of the varying depths of the lake. Bacalar Lagoon ranges from 0- to 300-feet-deep (90m); in the shallower parts, the water looks clear or bright turquoise, while in the deeper parts, you'll see the dark, indigo blue shades.
When you visit, try to spot all the shades of blue in the Lagoon of 7 Colors!
What are stromatolites in Bacalar lake?
One of the most interesting features in the lake are the Bacalar stromatolites — the large circular disks you'll see close to the shore (seen in the photo below ⤵). They are among the oldest living things on Earth, and also found only in a handful of places.
It's not super easy to explain what they really do, but basically they filter the lagoon's water and keep it so beautiful. Stromatolites do for Bacalar Lagoon what coral does for the ocean, among other things, and they help keep the water blue for generations to come.
♻️ Please practice responsible and sustainable tourism in Mexico and do not touch them! In addition, rinse off before entering, and only use eco-friendly, biodegradable reef safe sunscreen when swimming in Bacalar Lagoon, and only eco-friendly bug spray.
Is a Bacalar a pueblo magico?
Yes, Bacalar pueblo magico is officially a Mexico magic town! If you're now wondering,What is a pueblo magico? here's your answer ⤵
This prestigious title of "magic town" is awarded to pueblos (small towns) by Mexico's Secretary of Tourism. There are about 135 such towns that all have certain special characteristics including unique cultural and folkloric traditions and amazing natural beauty — which Bacalar has in spades.
Is Bacalar Mexico safe?
Yes, for the vast majority of travers, Bacalar is safe. Bacalar is a pueblo (small town), and feels like it. The biggest risk to your safety will likely be sunburns and drinking the water — Remember you can't drink the water in Bacalar as it's one of the top ways to get sick in Mexico.
Now, just because Bacalar is considered safe, both for visitors and those living in Bacalar, doesn't mean you should travel there and assume your safety is a guarantee.
On the contrary; you should follow these 25 Tips for Safe Mexico Travel, and make Bacalar safety your top priority. Basically, treat Bacalar the same as you would anywhere else in the world and be aware of yourself and your surroundings, because, in reality, no place on Earth is 100% safe.
Is Bacalar worth visiting?
Can we curse here?! …because OMFG, yes, Bacalar is so worth visiting! In fact, I've been twice.
What to Expect When Visiting Bacalar
Now, if you're looking for a late-night party town similar to Tulum and Cancun, then Bacalar isn't your place. However, if you want to experience some of Mexico's unspoiled, beautiful nature, and basically just chill, then Bacalar is your place.
places similar to bacalar Mexico
If you want to do some more Mexico off the beaten path travel, check out Isla Mujeres and Isla Holbox (Holbox Island), two Mexican Caribbean islands, Akumal, where you can swim with the turtles, and Felipe Carrillo Puerto, located on the edge of the Sian Ka'an Biosphere Reserve.
What's the best time to visit Bacalar Mexico?
The best time of year to visit Bacalar is during the dry season, from November to April. In the winter months, there's little to no rain and pleasant temperatures (see below ⤵). Though technically winter, Bacalar Mex is in the tropics, so plan for hot days and only slightly-cooler nights.
FAIR OF SAN JOAQUIN
To get a real locals' feel for Bacalar, consider visiting during the first two weeks in August for the annual Fair of San Joaquin. The event includes live music concerts and entertainment, local food vendors, various types races in the lake, and more.
Bacalar Weather
🥵 Bacalar Mexico Travel Tip: Bacalar's temperatures often feel 5-10°F higher than they show because of humidity. Make sure to pack your Water-To-Go Bottle, which will both keep you hydrated and filter your water — so you don't get sick in Mexico on your Bacalar vacation.
What do I pack for Bacalar?
Bacalar Quintana Roo Mexico has a tropical climate — ie. hot and humid 😥. As far as what to include on your Bacalar packing list, think flowy, tropical, breathable, cotton, light-colored clothing, with plenty of bathing suits, sundresses, sun hats, sandals and sunglasses.
👙 Head here for some Bacalar outfit inspo! Beyond clothes, don't forget to add these items to your Bacalar packing list:
FREE Printable Packing List for Mexico
Head to this article, ULTIMATE Packing List for Mexico, and download your FREE printable packing list for Mexico below. This multi-page Mexico packing checklist covers everything you'll want to bring, and more importantly, what not to bring to Mexico.
Final Thoughts: Traveling to Bacalar Mexico
Bacalar Lagoon is one of the most beautiful places in Mexico and the Yucatan Peninsula. For those wanting an alternative to the beach party scene of Cancun and Tulum, Bacalar provides an equally-beautiful, though much more chill, Mexico vacation destination.
While getting there can be a bit of a trek to get there, the payoff is worth it to swim in the blue Bacalar waters.
🌎 Practice Sustainable Tourism in Mexico: In recent years, thanks to Instagram, YouTube and social media, more and more people are flocking to this Mexico hidden gem. When you visit, do your part to keep Bacalar Lake beautiful by only using eco-friendly, biodegradable and reef safe sunscreen when swimming, and eco-friendly bug spray to ward off mosquitoes.