Ultimate Valle de Bravo Mexico Travel Guide [2021]
---
Have you heard of "The Hamptons of Mexico City?"
Located about two hours from Mexico City, you'll be in picturesque Valle de Bravo, Mexico — deemed the Mexico City Hamptons by Architectural Digest magazine in 2019. It is one of about 135 Mexico pueblos magicos (magic towns), located in Estado de México (Mexico state).
A popular destination for wealthy chilangos (Mexico City locals), many head there to escape the hustle and bustle of the big city. Valle de Bravo is among the most peaceful and upscale weekend, overnight and day trips from Mexico City, with plenty of great accommodations.
This well preserved colonial town is centered around Lake Avándaro, so there's no shortage of water activities. From boating, yachting and jet skiing, to swimming, fishing and stand-up paddle boarding — it's always fun to see the town from the water.
Back on land, you can explore charming and historic Downtown Valle de Bravo, with its cobblestone-lined streets and colonial buildings dating back to the 16th Century. Hiking to waterfalls and paragliding are also among the can't miss Valle de Bravo things to do.
Ready to discover everything you need to know for an amazing trip to Valle de Bravo, Mexico?
Let's get to this Valle de Bravo guide, starting where it's located and how to get to Valle de Bravo from Mexico City. Followed by all the amazing things to see, where to stay in Valle de Bravo, the best restaurants, and more!
valle de bravo mexico travel guide
Where is Valle de Bravo Mexico
Valle de Bravo is in Central Mexico, about 87 miles (140km) west of Mexico City, in Estado de Mexico (Mexico State). It's only a few miles from the neighboring state, Michoacan, where you'll find the Morelia, a Mexico UNESCO World Heritage Site, and the lake towns of Patzcuaro.
Valle de Bravo Map
valle de bravo mexico travel guide
How to Get to Valle de Bravo Mexico
To visit, most fly into Mexico City Airport (code: MEX) and rent a car for the two-hour drive to Valle de Bravo. There is also a small regional airport, Toluca International Airport (code: TLC), only about 30 minutes away, though there are no direct flights from the U.S.
✈️ Find Flights to Mexico City
Mexico City to Valle de Bravo Tours
If you're not staying overnight, a tour from Mexico City is without a doubt the best way to visit Valle de Bravo. This Private Tour to Valle de Bravo from Mexico City is a great option because you'll have a guide showing you around, but there are also a few more options below.
Mexico City to Valle de Bravo Drive
Valle de Bravo is about 2-2.5 hours from Mexico City by car, depending on traffic. The fastest way is on the relatively new toll road, Highway 15D, that takes you directly from Mexico City to Valle. 💡Note: Bring pesos (cash) for the tolls.
There's also the scenic route on Highway 134, which takes about 30-minutes longer. As with most scenic drives, it's the prettier and more relaxing of the two. On it, you'll enjoy sweeping vistas of tall cacti, palms and pine trees and multicolored homes and buildings.
Renting a Car in Mexico City
While the thought of a Mexico City car rental might seem intimidating, it's actually easy and relatively inexpensive to rent one.
Driving in Mexico is pretty similar to driving in the U.S.. For a crash course on how to drive in Mexico, look over these 10 Useful Mexico Driving Tips, which will help you with how to drive in Mexico.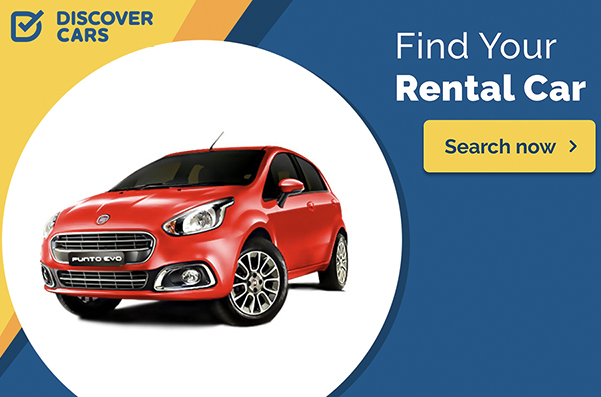 For a rental car, I recommend and use Discover Cars — as they check both local Mexican companies and international companies simultaneously, so you get the best deal. You can also buy insurance directly with them, as you must have Mexican insurance in Mexico (U.S. companies don't count).
Mexico City to Valle de Bravo Bus
From Mexico City, grab an Uber to Terminal de Autobuses de Poniente (AKA Terminal Observatorio). There, you'll buy a ticket with Zinabus for the trip to Valle de Bravo.
🚌💨 Zinabus offers a 10% discount when you buy your tickets online! Prices will always vary, but plan to spend about $20-30USD on roundtrip bus tickets.
valle de bravo mexico travel guide
What's the Best Time to Visit Valle de Bravo?
Central Mexico is blessed with what's called "Eternal Spring" weather, so there's really no bad time to visit! Valle de Bravo temperatures are generally temperate year-round, but check out the guide below for some tips on making the most of your Valle de Bravo travel.
Valle de Bravo Weather
Winter and Fall
Winters are cool to cold, so pack warm clothes and layers, as overnight temperatures can dip into the 40°Fs (6-8°C). January is usually the coolest month. November through April is generally dry and sunny, so these are great months for hikes to the Valle de Bravo waterfalls.
Spring and Summer
The Valle de Bravo rainy season runs from about June to September, and it can rain quite a bit, so consider bringing a windproof travel umbrella with you. April and May tend to be the hottest months, but the nice breeze off Avandaro Lake helps keeps Valle de Bravo cool.
Mexico Monarch Butterfly Migration (December to March)
Aside from when to get the best weather in Valle de Bravo, Mexico, many want to visit to see the millions of monarch butterflies during their annual migration. The butterflies are around from about November to April, but the best time to see butterflies in Valle de Bravo is from December to March.
🦋 Head here for more info on how to see the monarch butterflies in Mexico.
Monarca Paragliding Open (January)
The Monarca Open takes place each year in January. During this competition, paragliders from all over the world come to Valle de Bravo to compete and enjoy one of the best places in the world for paragliding.
Festival de Las Almas (Late-October)
The largest of the annual Valle de Bravo festivals is Festival de Las Almas (Festival of the Souls). It takes place at the end of October, coinciding with Día de Muertos, or Day of the Dead — a festive holiday with costumes, traditional dancing and an elaborate fireworks display.
10 Best Things to do in Valle de Bravo Mexico
1. Stroll Historic Downtown
If you're showing up to Valle de Bravo with no plan — no problem!
One of the top things to do is wander Downtown's cobblestone streets, and the Plaza Principal (Town Square). On your walk, take in the Kiosko (Gazebo) in the Plaza and the centuries-old buildings with Valle de Bravo's quintessential white walls and terracotta tile roofs.
In the Plaza Principal, you'll see the Jardín Principal (Main Garden), San Francisco de Asis Church, mercado style shopping, street food stands, and more. Make sure to try esquites de camaron (grilled corn served in a cup with diced shrimp, crema, lime and chile) and an ice cream from La Michoacana.
Continue your stroll down the main streets of Calle Joaquín Arcadio Pagaza and Calle 5 de Mayo. Both have great shopping, restaurants, photography spots, bars and more. Heading south on Calle 5 de Mayo, you'll have a few streets where you can access Lake Avandaro.
2. Lago Avándaro (Lake Avandaro)
Lake Avandaro is the centerpiece of Valle de Bravo, and the town's main draw for tourism. Here, visitors can enjoy a variety of aquatic recreation activities, like sailing, stand-up paddle boarding, kayaking, boating, fishing and waterskiing.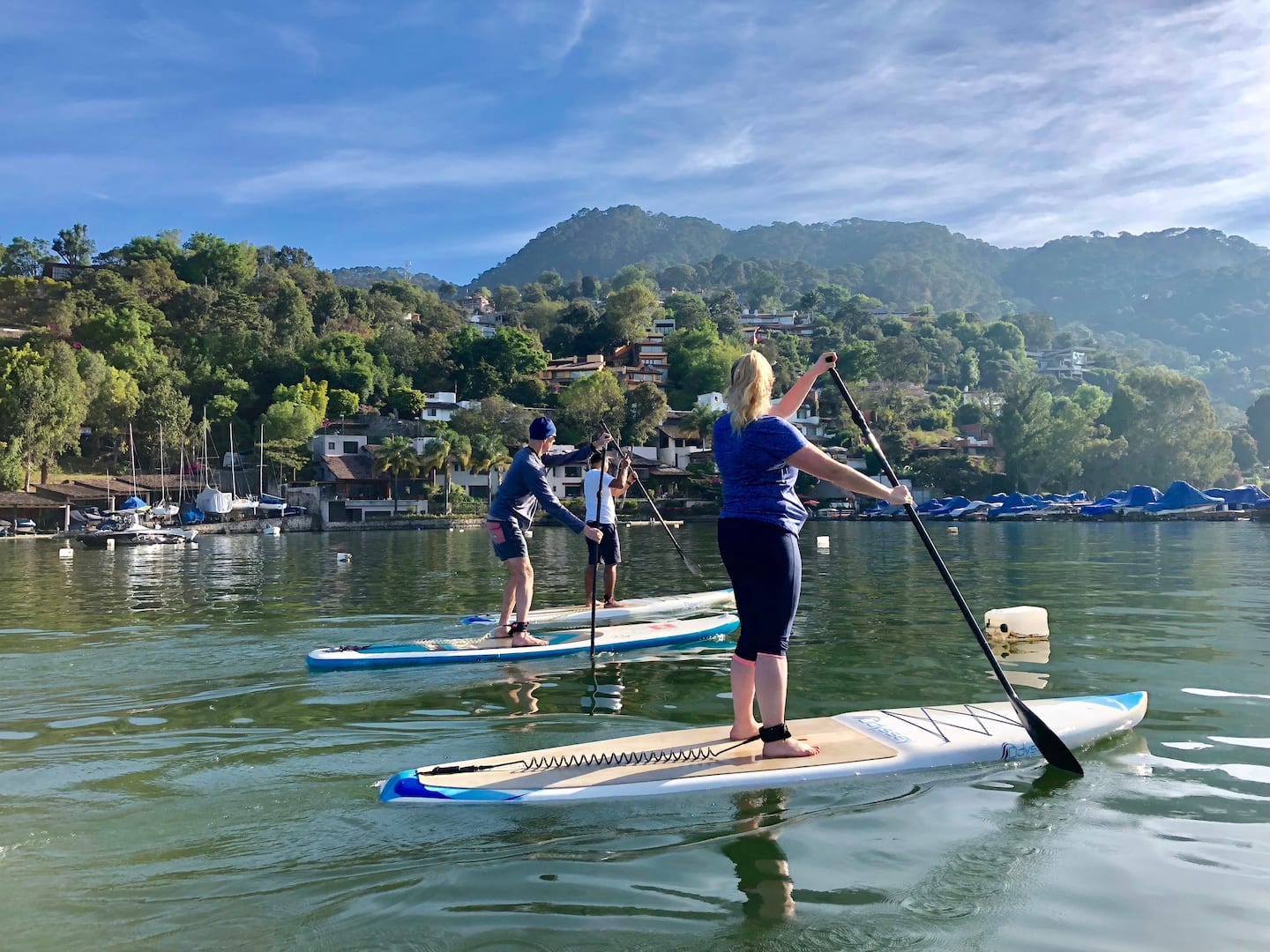 Can you swim in Valle de Bravo's Lake Avandaro?
Yes, you can swim in the lake — though many opt not to, as the water is quite cold. However, stand-up paddle boarding is a very popular way to get out on the water.
Even Valle de Bravo's land-based activities seem to revolve around the lake! Most hikes and walking trails meander their way to the top of town, so you can take in the scenic vistas of the lake from above, and watch the paragliders and or hang-gliders from above.
3. Mercado de Artesanías (Artisan Market)
No trip is complete without a visit to Mercado de Artesanías, the best Valle de Bravo Arts & Crafts Market.
Here, you'll find stall after stall with handmade goods from Mexican artisans and the indigenous Mazahua peoples. Don't pass up the chance to purchase colorful Mazahua fabrics, Otumba pottery, Ocoxal baskets made from woven pine needles, handcrafted woodworks and more.
4. Valle de Bravo Paragliding
Valle de Bravo ranks among the best places for paragliding in the world. The views of the lake on your descent only make the experience that much more memorable. For first-time flyers, don't worry, you'll go tandem with a trained instructor.
Paragliding Tours, Valle de bravo
5. Cascada Velo de Novia Waterfall
In the neighboring town of Avándaro, an affluent suburb of Valle de Bravo, you'll find the 115-foot waterfall, Velo de Novia (Bridal Veil Falls). Tucked away in Velo de Novia Park, and set amid a grove of fir trees, it's an easy hike to the falls from the park entrance.
Avándaro, Mexico Travel
As some have discovered Valle de Bravo online, and seen it's multimillion dollar homes, you may be curious about where all that epic Valle de Bravo real estate is located. Well, it's here in Avandaro, a wealthy town perched on the hill overlooking Valle de Bravo and Lake Avandaro.
On weekends, the main street in Avandaro comes alive, as many Mexico City locals escape here for a relaxing weekend. Avandaro is also popular for its golf courses, private cabanas in the woods like Cabañas Salamandras del Lago, and the famed El Santuario Resort & Spa.
🤘Avándaro Fun Fact: The Festival Rock y Ruedas de Avándaro, a massive Mexican rock festival that took place in the town in 1971 — is often called the Woodstock of Mexico.
6. San Francisco de Asis Church
This beautiful 17th Century church sits in the center of the Plaza Principal (sometimes called Plaza Independencia). It is the most recognizable building in the Valle de Bravo skyline, and said to be the tallest church in the entire state.
Inside, enjoy a few quiet moments away from the nonstop energy in the Plaza. As with many Mexican churches, there are beautiful paintings, sculptures, murals to see. You may take travel photos inside the church, as long as there's no service going on and you're respectful.
7. Hike to Mirador La Peña
La Pena is the most popular and best hiking trail in Valle de Bravo. What you will want to do is take a cab to the trailhead, as the walk through town to reach that point is all uphill and you may be too tired to even do La Pena!
The hike itself is a bit steep, though it's a short climb with stairs along the way. To get to the large cross at the very top of the Mirador La Peña (meaning "La Peña Lookout"), you'll have to climb up some boulders.
Once at the top of Mirador, you'll have spectacular, panoramic views of Lake Avandaro. It is quite high, and there's no safety railings, so hike with caution — but know this is one of the most popular things to do in Valle de Bravo, so it is safe.
8. Cascada Refugio del Salto Waterfall
Much like the advice you just got for the Mirador La Peña, you'll want to take a cab to the trailhead for the El Salto waterfall. It's a relatively easy 20-30 minute walk from the main road, through the woods. The trail is pretty clearly defined, and goes along the river.
If you don't want to hike at all, take a taxi to the Misión Grand Valle de Bravo hotel for lunch to eat at their restaurant right next to the waterfall! You can also head there after the hike for lunch, as you can access the restaurant from the trail.
9. Shopping on Joaquin Arcadio Pagaza
Calle Joaquín Arcadio Pagaza has the best shopping in Valle de Bravo. This street is lined with high-end shops that specialize in artisan-made Mexican housewares and locally-sourced items. Here, you'll also find great cafes like Soleado, Cocina del Mundo, art galleries and more.
10. Templo de Santa Maria Ahuacatlan
This is the oldest church in Valle de Bravo, and dates back to the 17th Century. Inside, you'll see the famed Cristo Negro (Black Christ), one just a few items to survive a Colonial-era fire which destroyed the rest of the church, though miraculously left the statue unscathed.
valle de bravo mexico travel guide
Piedra Herrada Monarch Butterfly Sanctuary
🦋 Note: This is seasonal! The butterflies are around from about November to April, but the best time to see Valle de Bravo butterflies is from about December to March.
The Piedra Herrada Monarch Butterfly Reserve, a habitat for millions (maybe even billions) of migratory butterflies, is located just north of town. This sanctuary is part of the larger UNESCO World Heritage Property Monarch Butterfly Biosphere Reserve in Mexico.
It is safest to visit on a guided tour (see options below ⤵), as it's a steep climb on a one-hour hike through the forest. You can also pay to go on horseback and with a guide, though even the horses don't go up the final 150-feet (45m), as it's too steep and rocky for them.
Once at the top, you'll see thousands of monarch butterflies in your immediate eye-line. When you look around, you'll see thousands more, sometimes weighing down branches because there are so many of them, but also fluttering about, and even landing on you.
In the spring, these butterflies begin an eight month migration that takes them all the way to Eastern Canada and back, during which time four successive generations are born and die. How they find their way back to their overwintering site remains a mystery. —UNESCO
Mexico Monarch Butterfly Tours
valle de bravo mexico travel guide
Best Valle de Bravo Hotels
Valle de Bravo is all about luxury, though there are also mid-range and budget options. Below, you'll find what are considered the best hotels in Valle de Bravo, with options at all price points.
Best Hotel in Valle de Bravo: La Casa Rodavento ($$$$)
After a full day hiking, shopping and enjoying the lake, enjoy every possible comfort you could want at La Casa Rodavento. Enjoy posh rooms, the pool, spa, jacuzzi, bar, and also a fancy dinner at the onsite Nuestro restaurant. Note: This resort is adults only.
Booking Tip: Inquire about getting Suite 2, which has a private rooftop deck with expansive views of the town and the San Francisco de Asis Cathedral.
Cinco Rodavento ($$$)
The slightly-less expensive cousin to La Casa Rodavento, Cinco Rodavento has a similar eco-chic decor and nice amenities. It has more of an overall youthful, trendy vibe, and an amazing rooftop bar, Rüf, making this the perfect hotel for a girl's trip.
Hotel San Sebastian ($$)
A great hotel for the price, you'll get great amenities and upscale service here at Hotel San Sebastian, but without the upscale price tag. Located in the heart of Downtown, you'll enjoy some of the best views of any Valle de Bravo hotel.
Capital O Hotel Rincon Soñado ($)
For a great budget-friendly option, there's Capital O Hotel Rincon Soñado, a posada style hotel in Downtown near the Plaza Principal and Mercado de Artesanías. Keep in mind that if you're visiting on the weekend, lower-priced options like this fill up well in advance.
valle de bravo mexico travel guide
Best Restaurants in Valle de Bravo Mexico
🌮 Best Tacos in Valle de Bravo
• El Callejón del Hambre: El Callejón del Hambre (Hunger Alley) is the place Valle de Bravo locals go for their tacos. If you want to enjoy some cheap eats, quintessential Mexico street tacos and other traditional Mexican food, head to El Callejón del Hambre and eat wherever has the longest line!
• Asados Don Abel: There's also Asados Don Abel, which is another locals' favorite, but they do have tables and chairs so you can sit down at the table and eat. This is a no-frills Mexican BBQ joint, which specializes in wild boar tacos and frijoles charros (pork and beans).
☕️ Best Cafe in Valle de Bravo
• Soleado, Cocina del Mundo: A well known Valle de Bravo restaurant, Soleado, Cocina del Mundo (Sunny, World Cuisine) is adorable inside and outside. There is a nice downstairs area, but the rooftop terrace offers beautiful views while international foods for breakfast, lunch and dinner.
🍷🍽 Best Restaurant in Valle de Bravo
• Nuestro: Nuestro is the restaurant at La Casa Rodavento, and widely considered the best Valle de Bravo restaurant.
Headed by Chef Alberto Colín, who once worked under famed French chef Jean-Georges Vongerichten, the cuisine at Nuestro is classic Mexican food with a twist. The dishes feature hyper-local ingredients, with a seasonal menu that changes every quarter.
• Quirina: If Nuestro happens to be fully booked — and if you're going on a weekend, it just might be — the beautiful rooftop at Quirina Restaurant at the Múbú Boutique Hotel, is also a great fine dining option.
🍸 Best Bar in Valle de Bravo
• Rüf at Cinco Rodavento: Rüf (pronounced roof) at Cinco Rodavento Hotel is known for having the best cocktails in Valle de Bravo, particularly mezcal cocktails. As a rooftop bar, you'll sip said delicious cocktails while taking in the beautiful views of Lake Avandaro, stunning both during the day and at night.
🥃 Take a Valle de Bravo Mezcal Tour: Mezcal, Ancient Drink: Enjoy & Learn
valle de bravo mexico travel guide
Final Thoughts: Valle de Bravo Travel
Is Valle de Bravo worth visiting?
Often likened to the Hamptons in New York, or Lake Cuomo, Italy — Valle de Bravo is an ideal town for rest, relaxation, peace and quiet. For those seeking a peaceful respite from the hustle and bustle of Mexico City, this is your perfect place.
Valle de Bravo Mexico safety
Wondering, Is Valle de Bravo, Mexico safe? Fair question!
Valle de Bravo is located in Estado de Mexico (Mexico State), which admittedly isn't known as one of the safest places in Mexico. However, the Valle de Bravo pueblo magico is a popular vacation town that is considered safe for travelers.
You'll want to exercise the same general travel precautions you would anywhere, but those should suffice. These measures include: don't walk home alone at night, don't leave your valuables unattended, and avoid people and situations that feel unsafe to you.
Have additional questions about Valle de Bravo Mexico?
I'd love to hear from you! Join the conversation and leave me a comment down below, and I'll do my best to get you the info you need about this beautiful lakeside town.