Tulum Beach House Rentals: 10 Best Beachfront Tulum Villas
---
Ready to book your Tulum beach house?
Tulum, Mexico, located in Quintana Roo State in the Yucatan Peninsula, has everything you need for an epic Mexico vacation — it's no wonder Tulum tops so many Mexico travel bucket lists. You're in the right place to discover the 10 most stunning Tulum beachfront villas and homes for your trip!
From swimmable cenotes and gourmet beachfront restaurants, to ancient Mayan ruins and Instagram worthy Tulum beach clubs, there's something for everyone on a Tulum vacation. The one thing missing from that list? Your perfect Tulum villa rental, of course.
Now, just because you're traveling to an exceptional place like Tulum, doesn't mean you shouldn't get your ducks in a row. The truth is, where you stay can make, or break, your Tulum trip. Booking the perfect beachfront villa will set the tone for the perfect Tulum vacation — and you're about to do just that!
Ready to be wowed by all the beautiful beach house Tulum villa rentals you can book for your amazing trip?! Let's get to it! After you see all the homes, check out these 4 Tulum Beach House Tips you need to know before booking a Tulum beach house rental.
BEST TULUM beach house rentals
1. Casa Xuul
View Listing: Casa Xuul Tulum Oceanfront
🏡 Stats: 9BR, 13Beds, 10.5BA | 📍 Location: Tankah Bay | 💸 Price: $$$$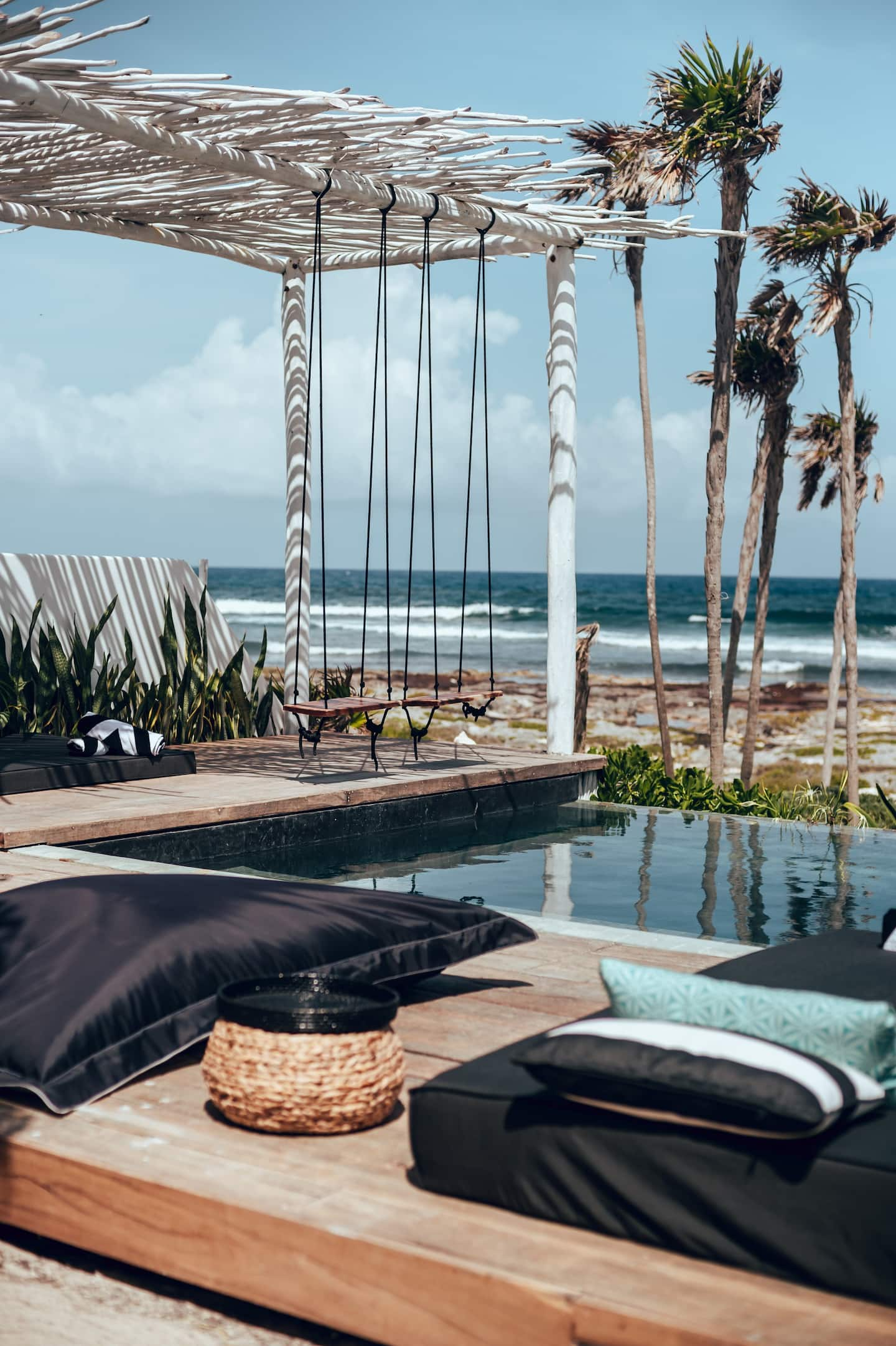 ---
---
Designed in the true Tulum spirit, Casa Xuul combines nature, modernity and comfort to offer a one of a kind experience. From the breathtaking views of turquoise Caribbean Sea waters to the soothing ocean breeze, this property features two connected yet independent villas designed to be an ideal gathering place for any special occasion.
In total, Casa Xuul has 9 bedrooms (all with AC) , 10.5 bathrooms and 13 beds. There are large dining areas, chef's kitchens, ground level oceanfront infinity pools, and an amazing 1,500 sq. ft. (140 m²) rooftop space with two jacuzzis, lounge pools, sofas, a grill, and a clear bottom plunge pool connecting both villas.
Reservations at Casa Xuul include snorkeling gear, water shoes, kayaks, daily cleaning (except Sunday and holidays) and on-site property caretakers to keep the grounds clean and in order. Private gourmet chef and concierge services available for an additional cost.
Casa Xuul is located on the outskirts of Tulum in exclusive Tankah Bay, so you'll want a rental car.
What Past Guests Have Said:
"We had a wonderful week at Casa Xuul, the house is even better than the pictures!"
"Our stay at Casa Xuul was nothing short of spectacular. The house is absolutely stunning, amazing amenities and view. We felt like we were on MTV cribs the entire trip…"
"Casa Xuul was a great property, very spacious and well laid out for our group… We were very happy with all of the amenities provided. The 3rd floor rooftop patio was especially nice at sunset! The staff were very accommodating and the food was great! I recommend having a rental car as it is about 10 minutes into Tulum but overall the location was very nice."
"Casa Xuul is absolutely incredible and well beyond our group's expectations. The property is beautiful, the rooms are very comfortable, and the staff was so accommodating and quickly available for all our needs."
Please note: Some reviews were sourced outside of VRBO.
---
BEST TULUM beach house rentals
Casa Xuul can host up to 24 people, or you can just book Villa Kiin for your party of 12!
---
BEST TULUM beach house rentals
2. Aldea Canzul Estate
View Listing: Three side-by-side Villas
🏡 Stats: 9BR, 11Beds, 11BA | 📍 Location: Tulum Hotel Zone | 💸 Price: $$$$
---
---
Within the Aldea Canzul Tulum Estate, you have three separate villas — Casa Chukum, the main house, Casa Chakte and Casa Chechen. In total, Aldea Canzul can accommodate up to 23 people, but if you don't need space for that many, you can just rent the main beachfront villa, Casa Chukum.
Aldea Canzul is located right in the middle of it all, just off world famous Tulum Beach Road. You're steps away from everything — bars, shops, spas, the best restaurants in Tulum, and more. The house, however, is far enough away to escape to complete peace, quiet and tranquility on your near-private beach.
Enjoy the ultimate luxury property on Tulum Beach, where modern architecture blends with warm, rustic elements, a private pool, concierge team from 9am-10pm, security 24/7 and breakfast prepared by your private chef each morning.
The stylish house provides privacy, comfort and an unmatched sense of space and tranquility. Located between the jungle and the ocean, you're just steps from both the white sands and turquoise waters of the Caribbean Sea, and also within walking distance of the famous Tulum nightlife in the Hotel Zone.
---
BEST TULUM beach house rentals
---
BEST TULUM beach house rentals
3. Casa Bautista
View Listing: Casa Bautista Luxury Villa
🏡 Stats: 5BR, 6Beds, 5BA | 📍 Location: Sian Ka'an | 💸 Price: $$$$
---
---
Casa Bautista, located in a protected UNESCO World Heritage Biosphere Reserve, Sian Ka'an, meaning Portal of Light in Mayan, is an eco-friendly property that welcomes guests from the moment you arrive.
This award-winning home is just outside of the Tulum Hotel Zone, and on a private beach. Your concierge can easily arrange for mopeds or bikes to get around, which is part of the fun of being in laid-back boho Tulum. They can also arrange transport getting to the house, if you're not coming in your rental car.
There's AC and fans in all the rooms, but Casa Bautista is designed to not need either, so you can reconnect with nature and enjoy the ocean breezes in this well-ventilated villa.
Enjoy the serene infinity pool, grill and dining table, with 360° jungle and Caribbean Sea views on your huge rooftop. Inside, there's a splash pool, jacuzzi, full kitchen and beautiful boho chic decor.
What Past Guests Have Said:
"This was by far the most extraordinary accommodation that anyone in our group ever has had the pleasure to stay in. It's located just south of the hotel zone, with the exclusivity of being within the privately gated Sian Ka'an reserve…."
"This is the most magical place in Tulum, secluded and private with stunning views! The concierge, staff and chef left nothing to be desired. Book this property, you won't be disappointed! We will definitely return."
"This house is incredible! It is inside the Sian Ka'an reserve so you may want to have a car rented, but this made it a more exclusive and unique vacation. The area is very safe, house is clean, and the managers have all the necessary contacts to ensure you have an incredible experience. The home is one of a kind!"
"The house is very nice. Private beach. The breeze from the ocean is amazing. The house staff was amazing. The concierge helps out a lot as well."
Please note: Some reviews were sourced outside of VRBO.
---
BEST TULUM beach house rentals
4. Casa Ganesh
View Listing: Casa Ganesh Tulum House
🏡 Stats: 3BR, 4Beds, 3BA | 📍 Location: Hotel Zone | 💸 Price: $$$$
---
---
Casa Ganesh is located on one of the coolest streets in the world — the instagrammable Tulum Beach Road. It shares the property with a boutique hotel, though is completely private. The hotel staff, security guards, housekeepers and guest service managers are available to help you enjoy a relaxing vacation.
Enjoy breakfast cooked in your full kitchen and dining area. Then, walk right outside onto the soft white sand beach, one of the most beautiful beaches in the Mexican Caribbean, before heading back to the beach house to use your private pool and lounge area.
The master bedroom, located on the top floor, has a beach view from the balcony, full private bathroom and king bed; the second bedroom, also located on the top floor, has a garden view, two double beds and a full bathroom; and the third room, on the ground floor, has a king bed and full bathroom.
What Past Guests Have Said:
"The house was perfect, the rooms were beautiful and clean, the beds were super comfortable and the entire house was cozy and fresh! You cannot beat the ocean views and access to the beach – literally 3 steps away!! We walked everywhere, which was super convenient and we were able to discover and enjoy so much of Tulum beach. One of our very best holidays yet!!!"
"I had some amazing days with my family. The house is beautiful, its decoration exquisite and every detail is very well cared for. The attention we received from the staff was excellent, they really made us feel at home and helped us whenever we needed anything. The price is definitely worth it and we would love to come back soon!"
Please note: Some reviews were sourced outside of VRBO.
---
BEST TULUM beach house rentals
5. Casa Bonita
View Listing: Casa Bonita by Mahayana Tulum Beachfront Villas
🏡 Stats: 3BR, 3Beds, 3BA | 📍 Location: Hotel Zone | 💸 Price: $$$
---
---
Casa Bonita is a spacious, well-designed 2,000 sq. ft. (185 m²) Tulum Beach house. Experience the beauty of being directly on Tulum Beach, and also the excitement of being in the best part of Tulum, the Hotel Zone. The best bars in Tulum, top restaurants, yoga studios, and boutique shops are all nearby.
The open concept living space creates a seamless connection with the beach and nature.
There's a sitting area with cushions on the veranda and an outdoor shower amidst the lush greenery of Tulum's beach-jungle. Enjoy a quiet piece of Tulum's coveted beachfront, complete with seaside pool, shaded palapa, day beds, beach loungers, sea kayaks, paddle boards and boogie boards for your use.
Casa Bonita, which means Pretty House, offers daily housekeeping (except Sundays). The hosts, Snow and Chabely, offer concierge-style extras and will happily arrange for chef, massage, and childcare services for an additional cost.
What Past Guests Have Said:
"We enjoyed being on the beach right in the middle of the action. Beach road traffic can get terrible so it was great to never need to get into a car. Staff was wonderful too."
"The house was perfectly beautiful, with the most glorious location and spectacular view imaginable… arriving at Casa Bonita was like arriving in paradise! We have been on many beach trips, but never have had a location such as this… WE LOVED EVERYTHING ABOUT THE PROPERTY!!! My only regret is that I could not stay longer!"
"Chabely was incredibly helpful and responsive, and the property layout provided for the perfect amount of privacy that we were looking for. Tulum is truly a one of a kind place and I would without a doubt stay here again."
"Myself and family had a great week. The house was really great and catered to our needs. Chabely, the house manager, was wonderful. Can't recommend this highly enough. We will be back again for sure."
---
BEST TULUM beach house rentals
6. Zorba Villa
View Listing: Zorba Villa Tulum Beach House Rental
🏡 Stats: 5BR, 7Beds, 6BA | 📍 Location: Hotel Zone | 💸 Price: $$$$
---
---
Zorba Villa is a bright, spacious Tulum beach house that sleeps up to 12 in its five bedrooms.
Two of the upstairs bedrooms have king beds and sea views.
The third upstairs bedroom is jungle-facing, with a double bed and bunk beds.
The fourth bedroom has pool views and a queen bed.
The fifth bedroom is on the main floor with a king bed, ensuite bathroom and doors that open to the Caribbean Sea and lanai.
Landscaped for privacy, enjoy seclusion in your private pool and a pathway that leads straight to one of the best beaches in Tulum. There are hidden spots to take space when you need it, and expansive outdoor areas with furniture and day beds to hang out on and relax.
Practice yoga on the large decks with sea breezes and oceanfront views, or enjoy an evening meal under the stars prepared by Zorba Villa's private chef (chef and massage services available for a fee).
What Past Guests Have Said:
"I stayed at Zorba for five nights with a group of 12 friends, all in our late 20's to early 30's… We had the best time during our trip, which was largely due to Zorba and their incredible staff. While we were there, the staff was so friendly and accommodating, …Finally, it's worth mentioning that theres a 24 hour security guard watching the front gate and beach entrance, so we never worried about our safety or belongings."
"This house was amazing! Great location, spacious, very safe and staff were very friendly. The beaches on this side of Tulum were spectacular. I would book it again in a heart beat."
"All ten of us thoroughly enjoyed our stay in Tulum and highly recommend this property in particular. Snow, Alma, and the rest of the staff are all friendly, responsive, and professional. They'll take great care of you. The house is thoughtfully designed and very well maintained."
BEST TULUM beach house rentals
7. Casa Niños
View Listing: Casa Niños – Luxury Vacation Rentals in Tulum
🏡 Stats: 3BR, 4Beds, 3BA | 📍 Location: Sian Ka'an | 💸 Price: $$
---
---
Located inside the gates of Sian Ka'an, a UNESCO World Heritage Biosphere Reserve, Casa Niños sits on a relatively private beach. Those looking for a refuge from the noisy party scene of Tulum, yet some proximity it, will find it here — as you're just 15 minutes from the main strip on the Tulum Beach Road.
🚙💨 Tulum travel tip: You'll want a rental car during your stay at Niños Tulum.
Casa Niños, however, is all about peace and tranquility with its effortless blend of rustic and modern architecture and decor. Outside, walk right out onto the beach to swim, and use all the complimentary water toys, like kayaks, paddle boards and snorkeling gear, or enjoy the terrace and lounge area.
Inside this three bedroom beachfront Tulum villa rental, enjoy the fully-equipped kitchen, dining area with seating for up to eight guests. There's also premium mattresses with high thread count cotton linen, blackout curtains to sleep in, eco-friendly bath products, satellite TV and AC in all bedrooms, and WiFi throughout the property.
The rental includes a staff of villa manager, housekeeper and groundskeeper throughout your stay. There's also daily housekeeping and turndown service at Casa Niños, one of the best Tulum beach house rentals to get your zen on.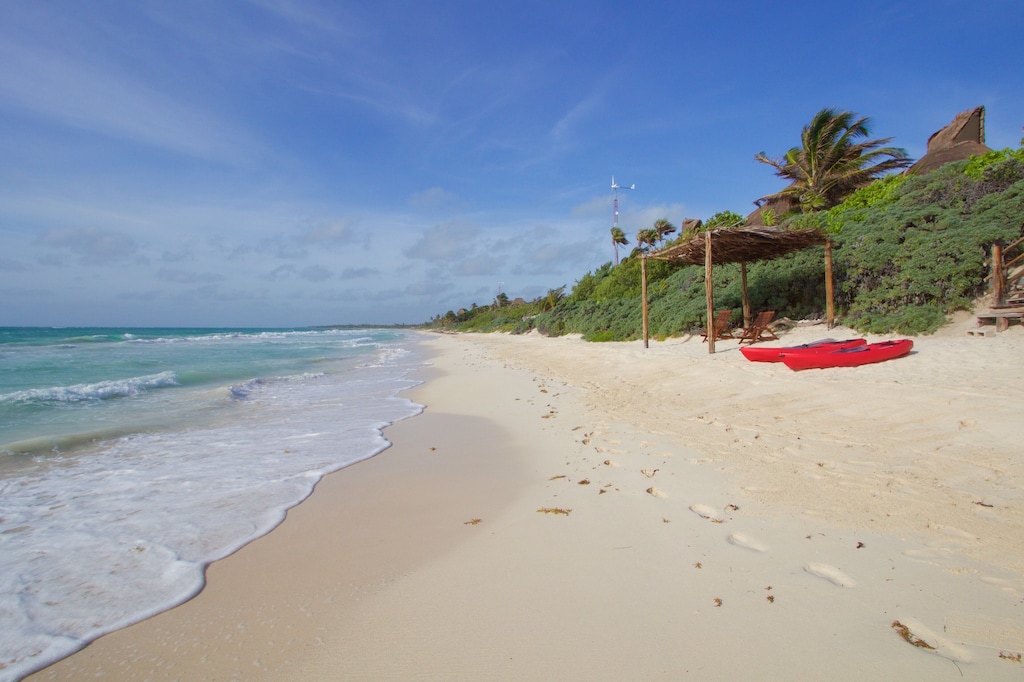 What Past Guests Have Said:
"We couldn't be more pleased with our rental, we all voted the best place ever. The view we have form the patio and the service was outstanding. We will be back. Thanks you for making our stay a wonderful experience."
"We had a very enjoyable and relaxing time at this house along the beach… Plenty of hot water. Excellent facilities, including kayak and paddle board along with a grill for use. On-site assistance was always friendly and helpful, and parking was easy. You felt extremely private and safe in the Sian Ka'an park."
"The beach was extraordinary and super-clean, with no seaweed and very calm. You could swim with ease and enjoy some light waves. Excellent for families and groups, and the most beautiful sunrises every morning."
"Highly recommended place to stay… we feel very satisfied with the overall value. You would find it hard to identify a more perfect location and beach in the entire Yucatan, and will certainly not be disappointed by how calm and peaceful the place is."
---
BEST TULUM beach house rentals
8. Un Pedacito del Cielo
View Listing: Tulum Beachfront Property Rental
🏡 Stats: 4BR, 5Beds, 3BA | 📍 Location: Tankah Bay | ⭐️ Premier Host: Yes | 💸 Price: $$
---
---
Casa Un Pedacito del Cielo, meaning A Little Piece of Heaven, is a 3,200 sq. ft. (297 m²) open concept Tulum beach house. It features marble throughout, a 12-foot (3m) cathedral ceiling and large patio doors that open to views of the swimming pool, beach and Caribbean Sea.
The half-acre (0.2 hectare) property is located in the pristine, and gated community of Tankah Tres Bay, a small and cozy swimmable bay just 10 minutes north of Tulum. The property has a lush tropical garden, and a large private, white sandy beach, for the community.
This is one of the most affordable-yet-luxurious villas in the entire Riviera Maya, and among the few places that offer onsite staff (a gardener and maid) during your stay. Perfect for entertaining large/larger groups, there's a pool, grill, hammocks, kayaks, paddle boards, snorkeling equipment and more to enjoy.
Un Pedacito del Cielo is located on the outskirts of Tulum in exclusive Tankah Bay, so you'll want a rental car.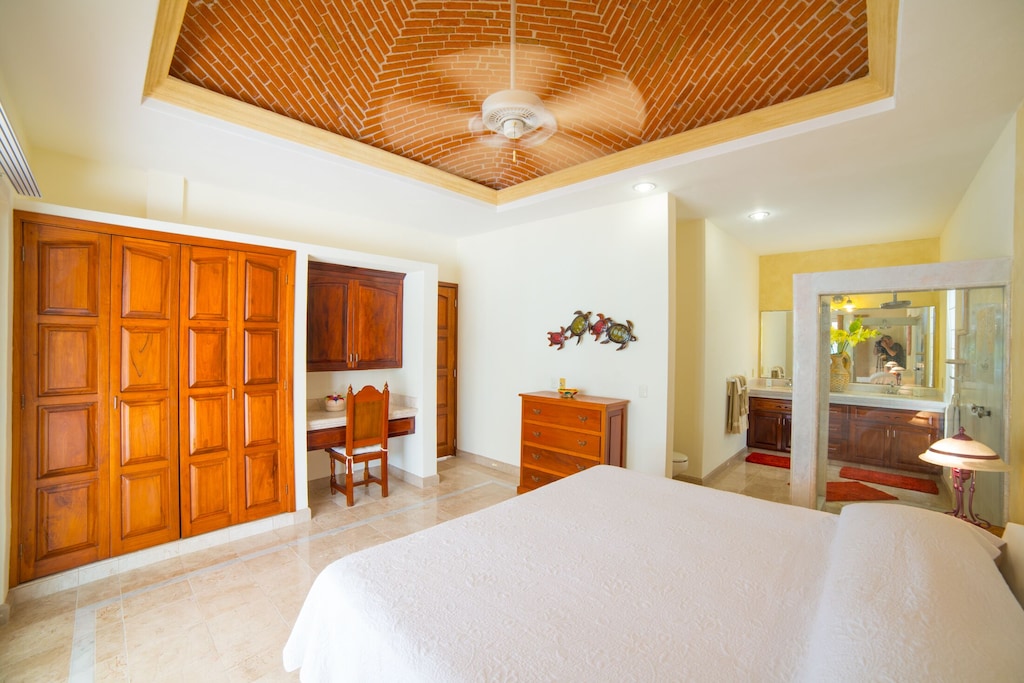 What Past Guests Have Said:
"This place is an absolute dream. Eric was an amazing host, fantastic communication and helped us in many ways to make our stay as comfortable as possible. The house keepers were fantastic. Lydia cooked up an amazing authentic shrimp taco meal for us, cleaned after us twice a day and helped us with groceries and advice. Pedro cut down fresh coconuts for us in the morning too!"
"The location of the property was idyllic… We felt like we had our own private beach…"
"Wonderful stay. We've rented at a number of beach front homes in the Tulum area and Un Pedacito del Cielo in all respects rates at the top. We highly recommend it and hope to be back!"
"We spent one month here and overall really enjoyed our stay. The area is very peaceful and still a very quick drive to Tulum. The beach is calm and there is great snorkeling just beyond the reef (a quick kayak trip away). Lidia and Pedro were wonderful — Lidia often brought food, always keep the house tidy, and was great company."
---
BEST TULUM beach house rentals
9. Casa Mandala
View Listing: Casa Mandala w/Pool Tulum House Rental
🏡 Stats: 3BR, 4Beds, 3BA | 📍 Location: Hotel Zone | 💸 Price: $$$
---
Casa Mandala is a tropical oasis, centrally located along the world famous Tulum Beach Road. It is a private oasis, right in the middle of all the action, but quiet enough to retreat home to for a restful night's sleep.
This dreamy Tulum beach house features a private pool and is only 60-feet (30m) from the soft white sand and turquoise waters of the Caribbean Sea. There, you'll find beach loungers, daybeds and shaded palapas, boogie boards, sea kayaks and stand up paddle boards — all reserved just for you.
The home has three levels; with the living area, outdoor lounge and kitchen on the first floor. The second floor bedrooms have separate sliding glass entrances, and queen beds in each. The third floor is the master suite, with 360° views of the tree canopies, a king bed, and ensuite bathroom.
Enjoy daily housekeeping (except Sundays), and private chef and massage therapist services for a fee, which can be booked through the hosts, Snow and Chabely.
What Past Guests Have Said:
"Nothing but extraordinary! Loved every moment of my time in the Villa! Steps away from the beach. Hidden yet close to all the excitement Tulum offers!"
"This place was better than expected. The access to the beach is literally 50-70 yds and the property itself is gorgeous. Feels very private… Chabely, the property concierge, responds very fast and took care of everything. Heavily advise to stay here!!"
"You couldn't ask for a better location. Casa Mandala is really in the center of Tulum's scene. Steps from the beach, it has everything a vacationer might need. We loved the decor, the jungle pool, and the clean, private slice of beach."
---
BEST TULUM beach house rentals
10. Casa Gaia
View Listing: Casa Gaia Tulum Beach House
🏡 Stats: 1BR, 1Bed, 1.5BA | 📍 Location: Hotel Zone | 💸 Price: $$
---
You can't get closer to the Caribbean Sea than Casa Gaia! This spacious, open Tulum Beach studio villa is both steps from the sea, and also all best restaurants in Tulum, shopping boutiques, yoga studios and spas and more — so you get the best of both worlds.
Inside Casa Gaia, the bright living space with high ceilings, curved walls and glass doors that completely open, make this space feel larger than it is (650 sq. ft./60 m²). Within the space, you have a king bed, seating area, kitchen with fridge, gas stove and sink, private bathroom, closet, vanity and dressing area.
Outside, there's an intimate patio protected by luscious, tropical plants, so you can watch the sunrise and sunset in total privacy. Enjoy beach loungers, shaded palapas, a semi-private beachfront, pool, stand up paddle boards, sea kayak and boogie boards during your stay.
The home is kept cool with AC, and the WiFi is strong enough to work or stream videos outside on the private patio. Daily housekeeping (except Sunday) is included.
What Past Guests of Have Said:
"Simply amazing place right on the most stunning beach we have seen with beautiful white sands and clear blue sea… Every little detail has been thought through from the beautiful design of Gaia House with its balcony and organic curves through to its perfectly formed kitchen… Highly recommended."
"Goodness where do I start? This was most definitely the best place I've stayed in Mexico, and honestly, probably the best [place] I've ever been in. Finding it was a snap and parking my gigantic rental Jeep was a breeze. The location is perfect, could NOT be better… I can't wait to come back to Tulum and stay here again!"
"Highly recommend as it's close to everything but a beautiful spot that you feel you're able to have alone time with your loved one on the beach with breakfast overlooking the water and waves crashing in to put you to sleep at night!"
Please note: Some reviews were sourced outside of VRBO.
---
2. Make sure the home is actually on the beach
As the saying goes: "Location, Location, Location;" so first and foremost, know that everywhere featured in this article is a beachfront Tulum VRBO rental, located right on world famous Tulum Beach Mexico.
The closest Tulum neighborhood to the beach is called Aldea Zama, and as you see on the Tulum map below, it's not super close — so be aware of places advertised as "near the beach." Aldea Zama is about 10-15 minutes away by rental car or bike from Tulum Beach, which for many is not "near the beach."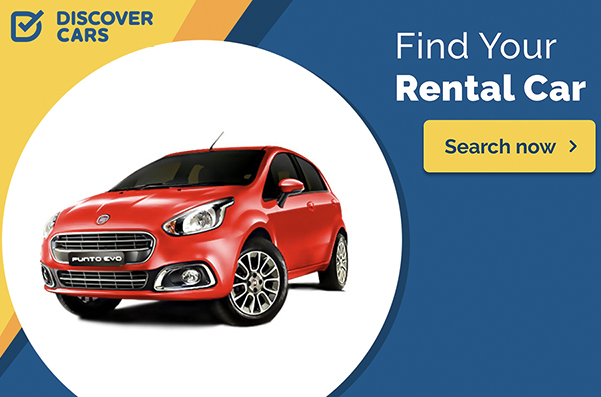 4. Electricity charges & usage restrictions
In Tulum, it's not uncommon for some hosts to charge extra for all electricity, or for going over a certain usage of electricity — though some don't charge at all. Also, some hosts only allow AC usage from sundown to sun-up, to conserve electricity in eco-friendly Tulum.
💡 Tulum Travel Tips: Always make sure to carefully read each description before booking to avoid unexpected charges and electricity restrictions in your Tulum villa rental.
BEST TULUM beach house rentals
How do I get to Tulum Mexico?
Wondering How do you travel to Tulum? Head to this article for a complete Cancun to Tulum travel guide, but the abridged version of that information is below ⬇️
The closest airport is Cancun International Airport (code: CUN), which is great because there's direct flights to Cancun from nearly all major U.S. cities. From CUN, you'll then make the 75-mile journey to Tulum. You have several options for this: rental car, shared or private shuttle and ADO bus from Cancun to Tulum.
Cancun to Tulum Airport Transfer
Tulum Weather
Below is an idea of what you can expect from Tulum Mexico weather, and in general, Yucatan weather averages. Tulum's rainy season tends to run from mid-May through mid-October — and you can expect heavy rain storms during the rainy season.
🥵 Tulum travel tips: Especially in the summer months, Tulum temperatures often feel 5-10°F higher because of humidity. Make sure to pack your Water-To-Go Bottle, which keeps you hydrated and adds an extra layer of Mexico water filtration… so you don't get sick in Mexico!
What do I pack for Mexico & Tulum?
As you can see in the weather chart above, Tulum, Mexico has a tropical climate — ie. hot, and humid 😥. When making your Tulum Mexico packing list, think flowy, tropical, breathable, cotton, light-colored clothing; bonus points for anything that doesn't show sweat!
Besides bathing suits, you'll want to being anything with "sun" or "beach" in the name, like sundresses, sun hats, sunglasses and a beach bag. Beyond clothes, don't forget these items: