Mexico Travel Destinations
🗣 Mexico Language
Spanish, though some still speak indigenous languages
💰 Mexico Currency
Mexican Peso, though U.S. dollars are sometimes accepted
☀️ Mexico Weather
Check out the Mexico Travel FAQs below for detailed info!
📍Top Travel Destinations
Mexico City, Tulum, Cancun, Los Cabos, Puerto Vallarta
📍Off the Beaten Path
Oaxaca, Holbox Island, San Miguel de Allende, Bacalar
As it's such a large country, there's something and somewhere for everyone in Mexico!
In Southeast Mexico, there's Oaxaca and Chiapas states, and the Yucatan Peninsula, with some of the country's best beaches. 
Central Mexico has what's known as an "Eternal Spring" climate, making it the ideal year-round Mexico travel destination in places like Mexico City, San Miguel de Allende, Puebla and Guadalajara.
Baja California and northern Mexico have a desert-like climate. The laid back Baja California states have mountains, beautiful beaches and Mexico's largest Wine Country!
Mexico travel destinations by region: Click on a state or a colored box below the map for info.
Yucatan Peninsula
Tulum • Playa del Carmen • Bacalar Lagoon • Cancun • Merida • Cenotes
Mexico City
Roma • Condesa • Coyoacan • Centro Historico • Xochimilco • Teotihuacan
Southern Mexico
Oaxaca • San Cristobal de las Casas • Puerto Escondido • Huatulco • Palenque
Central Mexico
San Miguel de Allende • Guanajuato • Grutas Tolantongo • Puebla • Queretero • CMDX
pacific states
Puerto Vallarta • Sayulita • Guadalajara • Punta Mita • Rivera Nayarit • San Pancho
Baja California
Todos Santos • Los Cabos • Valle de Guadalupe • La Paz • Tijuana
Top Mexico Travel Destinations
Is Mexico safe for solo travel?
For the most part, Mexico is safe for travel. I have lived and traveled in Mexico as a solo woman for about 2.5 years now — and encountered zero issues.
…But don't just take my word for it! Check out these podcast episodes where I speak to other solo female travelers in Mexico about how they stayed safe and had an amazing Mexico trip.
• Ep. 04 | Janine's take on solo female travel safety in Mexico
What's the best time of year to visit Mexico?
Mexico is a large country, so this answer is dependant on which part of the country you're headed to! Below is some general info to help with Mexico travel planning:
Central Mexico weather: This areas has what is known as an "eternal spring" climate. This means it feels like spring all year-round, so its never super hot or super cool. The rainy season is from April-September.
Yucatan Peninsula weather: This part of Mexico is very tropical, and more-or-less hot all year long. The winter months are lovely, and the summers are humid and rainy with occassional tropical storms and hurricanes.
Northern and Western Mexico weather: This part of Mexico has pretty much a desert climate. You can expect dry, hot days, and cool/cold, dry nights.
As a general rule, Mexico's beaches are nicest from November-April; and quite hot/humid from May-October.
The country's rainy season is usually from about April-September; and it can rain quite a bit during those months.
As a blanket statement, the busiest month for tourism in Mexico is December.
Do I need a visa for Mexico?
U.S. Passport holders do not need a visa to visit Mexico — just one of the 5 Reasons Mexico is One of the Best First Time Solo Travel Destinations!
When you go through Customs/Immigration at the airport, you'll receive your FMM 180-Day (6 month) Tourist Visa at no charge. Be sure not to lose your FMM Visa, as you'll have give it back when you're leaving the country.
If you lose your FMM, there is a $600 peso ($30) cost to replace it, as well as some paperwork you'll have to fill out at the airport.
Do I need to speak Spanish to visit Mexico?
Many people visit Mexico and never utter a word of Spanish, so you don't have to speak Spanish to visit Mexico.
However, as a general rule, you should know at least a few words of Spanish, which you can find on the infographic below. Pro Tip: Save it on your phone as an image, so you can have it handy even if you're off-WiFi.
As a general rule, if you stick to the more touristic parts of Mexico, you'll be fine with very basic Spanish and casual niceties. If you plan to venture off the beaten path, be advised most people in the pueblos (small towns) won't speak any English.
Is it safe to rent a car and drive in Mexico?
Is it safe to drive in Mexico?
Short answer: Yes!
Longer answer: Is is safe, but with the obvious caveat to that you will be driving in another country where you're unfamiliar with driving laws and customs.
If you're planning to drive in Mexico, consider taking some time to familiarize yourself with Mexico driving laws. Beyond that, plan to sit for an extra 10-15 minutes with the agent at your car rental center, and check out these 12 Tips on How to Drive in Mexico.
🚙💨 Looking to rent a car? Discover Cars has locations all over Mexico.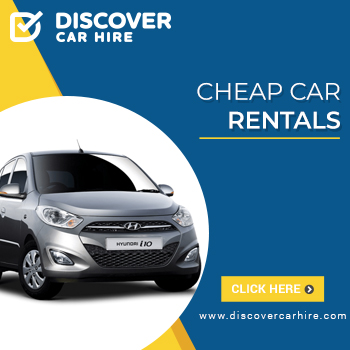 What are some Mexico off the beaten path destinations?
Off the beaten path travel destinations are kinda my thing!
While I love so many parts of Mexico, it's definitly easier to love places more when they aren't as crowded… Amirite?!
Download my free guide Venturing Off the Beaten Path: 10 Hidden Gems of Mexico to learn about my Top 10 favorite spots.