11 Best VRBO Tulum Rentals Under $99 Per Night [2021]
---
Ready to book one of the best VRBOs in Tulum, Mexico?
You've come to the right place, because 👋 hi, I'm Shelley, and I've been living and traveling solo in Mexico since 2018. As a digital nomad and long-term traveler, I've learned how to become quite the Mexico accommodations deal hunter — and I've found some amazing Tulum VRBO deals for you!
By Mexico travel standards, Tulum is quite pricey. However, traveling to Tulum on a budget is 100% possible! In this article you're going to discover the 11 most chic options available for under $99 per night (some as low as $35 per night) in the tropical boho beach paradise of Tulum, Quintana Roo, Mexico.
Thanks to Instagram, YouTube and social media, Tulum is at the tippy top of many a Mexico bucket list.
It's easy to see why; instagrammable Tulum has it all. From the ancient Mayan Tulum Ruins to hip eco-resorts for Tulum glamping, and chic beach clubs to swimmable Tulum cenotes, there's something for everyone on a Tulum trip.
Now, just because you're traveling to an exceptional place like Tulum, doesn't mean you shouldn't get your ducks in a row. The truth is, your accommodation will either make, or break, your trip.
I think we can all agree booking the perfect VRBO sets the tone for having the perfect Tulum vacation — and you're about to do just that!
Ready to discover the 11 best VRBO Tulum options for under $99 per night!? Keep scrolling to see all your amazing places that will make Tulum on a budget possible… But first, check out the 3 Tips below that you'll want to read before booking a Tulum VRBO.
👉🏡 Please Note: Though the title says Tulum VRBO, some properties have become unavailable on that platform. In an effort to still show you the best accommodations in Tulum, Mexico, those properties will be linked out to other top-name rental services, like Booking.com.
Best Tulum VRBO Rentals
3 Tips for Booking a Tulum VRBO
1. Decide on your ideal Tulum neighborhood
As the saying goes: "Location, Location, Location;" so first and foremost, all places featured in this article are located in the best neighborhoods in Tulum — including trendy Aldea Zama, and Tulum Town (AKA Downtown Tulum or Tulum Pueblo). 🗺 Check the Tulum map below for a visual.
VRBO Tulum beachfront options aren't super common for under $99 per night, but there are some great Tulum glamping options in this price range, if you have your heart set on staying in a VRBO Tulum beach rental. If you're traveling with a group, consider renting a Tulum beach house and splitting the cost.
NEIGHBORHOODs in Tulum
2. Check the WiFi speeds before booking
Tulum isn't known for always having the strongest WiFi. In recent years however, with more visitors and digital nomads in Tulum, things are changing. Now, that's not to say good WiFi in Tulum is the norm — but you can find it.
If you're planning to work during your trip, or need strong WiFi for streaming, double check with the host before booking and they can let you know the home's speeds.
3. Check the electricity policy before booking
In Tulum, it's not uncommon for some hosts to charge extra for all electricity, or for going over a certain usage of electricity; though some don't charge at all. Always make sure to carefully read each description before booking to avoid this.
For those who do charge, expect about an extra $5-10USD per day, and know hosts usually require this payment in pesos at check-out.
…Now, about these 11 Tulum VRBOs
Ok, so now that you know where to book (either VRBO in Downtown Tulum or a VRBO Tulum Aldea Zama), and what to look out for (electricity surcharges, WiFi speeds), let's discover the 11 best VRBOs in Tulum, Mexico.
After you book your dream Tulum VRBO, keep scrolling for the answers to your Mexico travel FAQs, so you'll have an epic Tulum vacation.
👉🏡 Please Note: Though the title says Tulum VRBO, some properties have become unavailable on that platform. In an effort to still show you the best accommodations in Tulum, Mexico, those properties will be linked out to other top-name rental services, like Booking.com..
---
BEST TULUM VRBO RENTALS
1. The Panoramic Tulum
View Listing: Boho Chic Studio 360 Infinity Pool BIKES
🏡 Type: Entire Apartment (1BR, 1BA) | 📍 Location: La Veleta (Downtown)
---
---
Bohemian meets modern chic at The Panoramic Tulum — known for its circular rooftop pool with 360° panoramic views. Enjoy your brand new studio apartment, in a building equipped with luxurious amenities like a gym, crystal elevator, and 36-foot (12m) waterfall to welcome you inside.
Take advantage of indoor/outdoor living in your apartment, and relax on the private terrace while having a drink overlooking the garden with luscious greenery. Your brand new space has new, top of the line appliances and finishes, TV, and a comfy king size bed with high-end sheets.
---
Tulum beach club
Included with your stay, you'll have access to a beach club in Tulum. There is a minimum consumption requirement, but you'll receive complimentary entrance.
---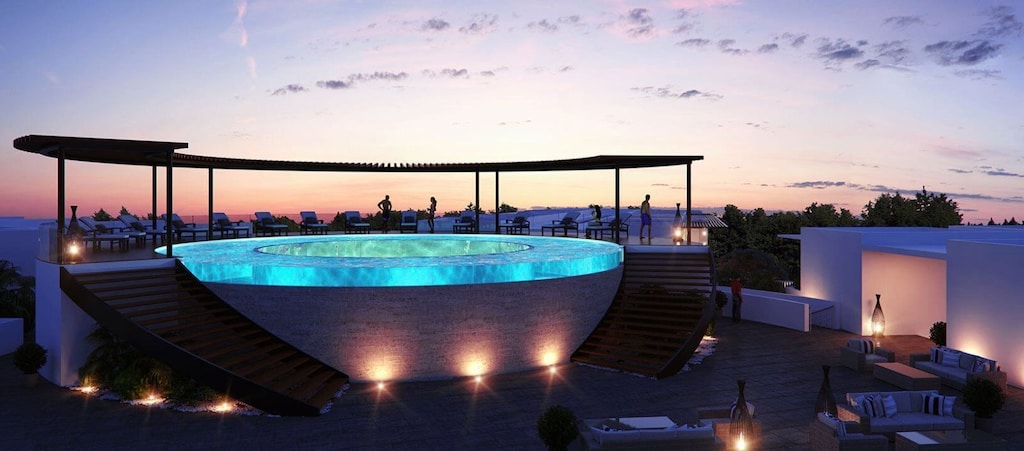 ---
BEST TULUM VRBO RENTALS
2. Swim Up Suite at Central Park
View Listing: Luxurious and Modern Swim-Up Studio
🏡 Type: Entire Apartment (1BR, 1BA) | 📍 Location: Tulum Town (Downtown)
---
---
Central Park Lagunas Tulum is a brand new property, complete with lagoon-feel and your very own swim up suite, so you can swim right from the pool to your door!
Your luxurious, modern, yet tranquil studio is located in Tulum Pueblo (AKA Downtown), just a few minutes away from all restaurants, bars, cafes, shops, and the main strip in downtown. After exploring, retreat back to this oasis home to enjoy serenity and nature back at your home.
Besides the lagoon pool, there's WiFi, a king size bed, kitchenette, AC and 24 hour security. The easiest way to get around Tulum is by bike, and there are numerous rental shops within minutes of your home. From there, it's just 15 minutes to world-famous Tulum Beach on a bike ride through this jungle town.
🚙💨Driving your rental car? There's free parking on-site.
---
BEST TULUM VRBO RENTALS
3. Nahouse Jungle lodge
View Listing: Zapote Lodge: A place created respecting nature
🏡 Type: Entire Cabin (1BR, 1BA) | 📍 Location: Tulum Town (Downtown)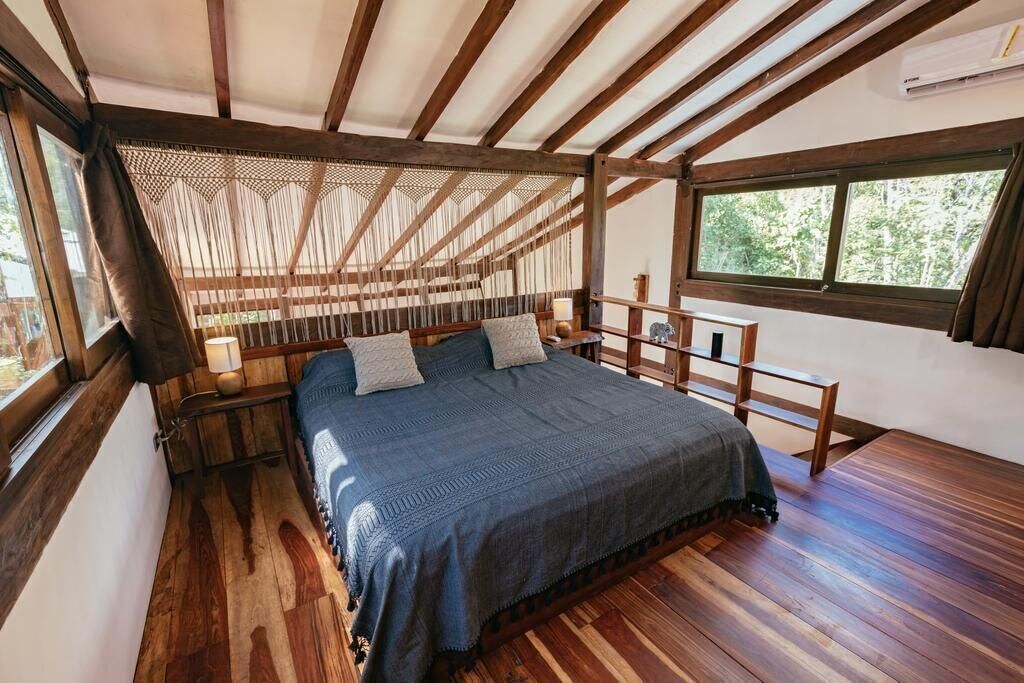 ---
---
Nahouse Tulum is a four-unit property, of which Zapote Lodge is one. Each private cabin is a considerable distance from the other, with a lush amount of plants between, to preserve privacy. They are centered around a cenote-style swimming pool, to make you feel connected to Tulum's nature.
Each villa at Nahouse provides a retreat-style atmosphere, with a fully equipped kitchen, living room area, private bathroom with shower, comfy king size bed, and a lovely outdoor terrace. You're also within walking distance of Tulum Town (Downtown), so you have the best of both worlds!
🦟 Pro Tip: Given Tulum's boho jungle environment, don't forget to pack your eco-friendly bug spray.
---
BEST TULUM VRBO RENTALS
4. Amena Penthouse + Private Pool
View Listing: Romantic jungle penthouse
🏡 Type: Entire Apartment (1BR, 1BA) | 📍 Location: La Veleta (Downtown)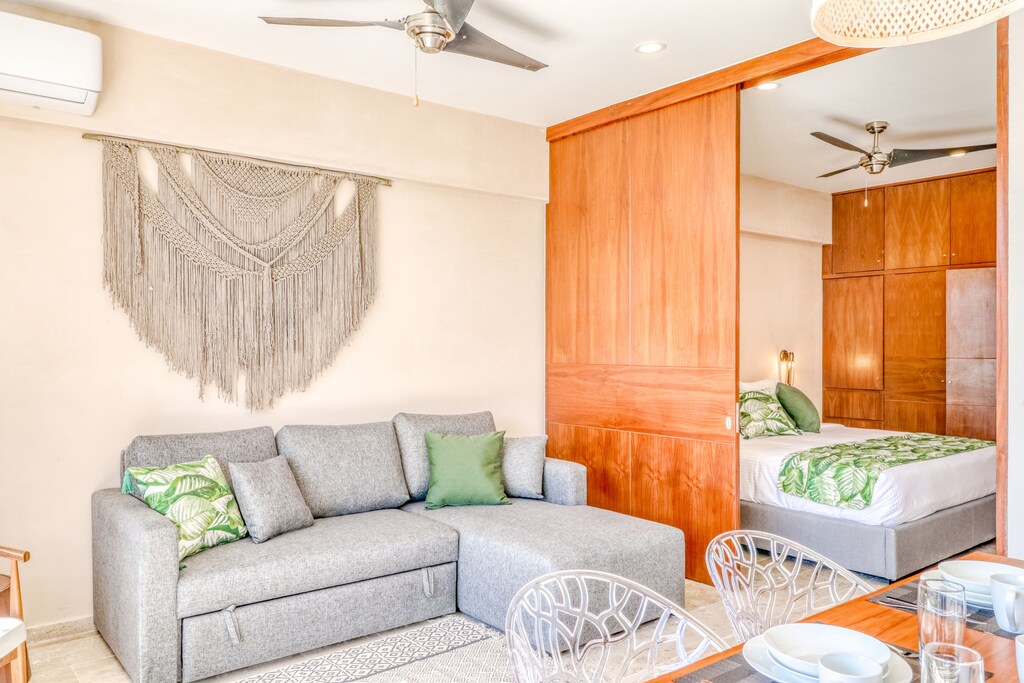 ---
---
The Amena Tulum penthouse is surrounded by the lush, green jungle but also close to downtown. Head to the restaurants, cafes, bars and shops in Tulum Town (Downtown), then retreat back to your penthouse to enjoy the private rooftop splash pool and sundeck.
Your rooftop pool offers more than a refreshing swim, as you'll also love the panoramic jungle views you get while sipping on a tropical cocktail or smoothie. Inside, the apartment is kept cool with fans and AC, there's a stocked kitchen, dining table, living room with sofa and TV, king sized bed, and more to enjoy.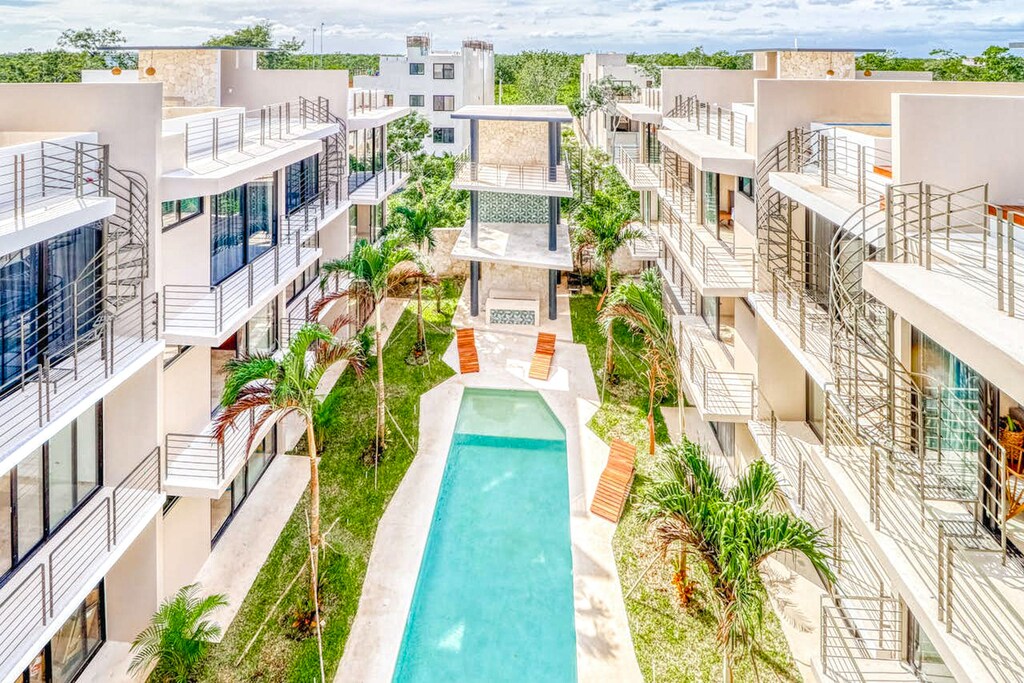 ---
BEST TULUM VRBO RENTALS
5. Paramar Terra (2 Bedroom)
View Listing: Incredible apartment
🏡 Type: Entire Apartment (2BR, 3Beds, 2BA) | 📍 Location: Aldea Zama | 💦 Pool: Yes!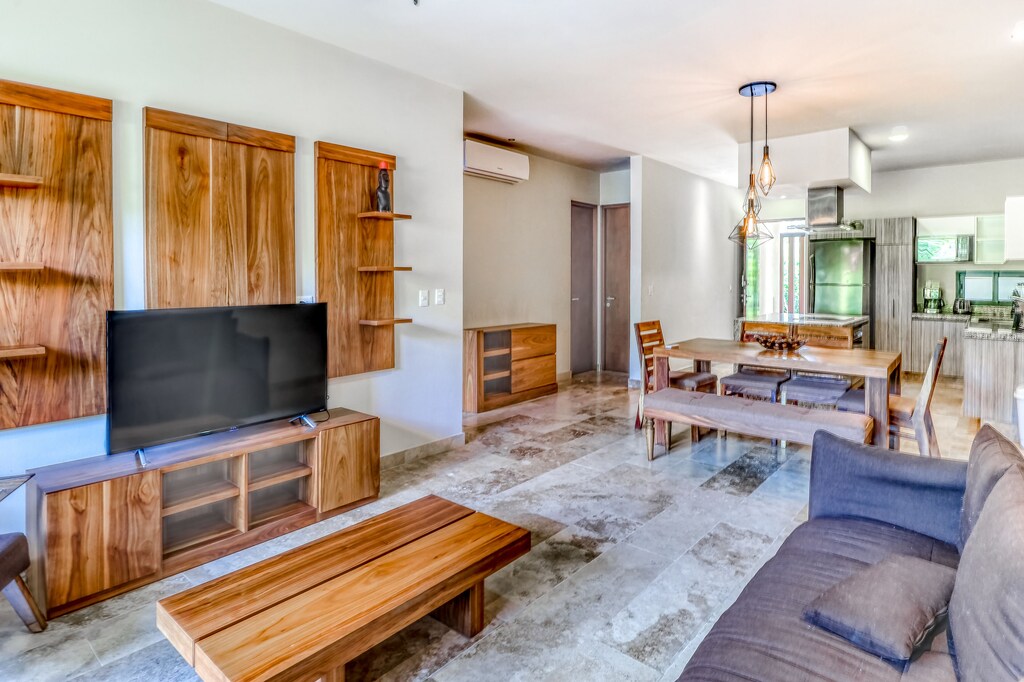 ---
---
Paramar Terra is a newer complex in the best neighborhood in Tulum, Aldea Zama. This upscale community is perfectly located, and sits right between the Tulum Beach and Tulum Town (Downtown). You can easily get to either area, both just a short 10-minute bike ride away.
🚲 Free bikes are available on a first come, first served basis. If none are available, you can rent one at the concierge desk. Biking is the easiest, quickest, most inexpensive way to get around Tulum.
"Good location, access to swimming pool, free bikes for rental. Apartment is in excellent state, all neat and clean. The host are very hospitable and attentive to the guests' needs." ~Igor (Read more reviews)
As you can see in the photos, the pool area at Paramar Terra is a tropical jungle oasis. The inviting resort-style lounge and pool area features a circular sun deck and palapa right in the middle of the pool. Surrounding the palapa, there are lawn chairs and seats in the water to relax and sip your tropical drink.
The building also has a gym and 24/7 security. Inside your apartment, there's two bedrooms, one with a king size bed and the other with two double beds, a full kitchen, washer/dryer, private balcony overlooking the pool and tropical gardens, AC and WiFi — everything you need to enjoy your Tulum trip.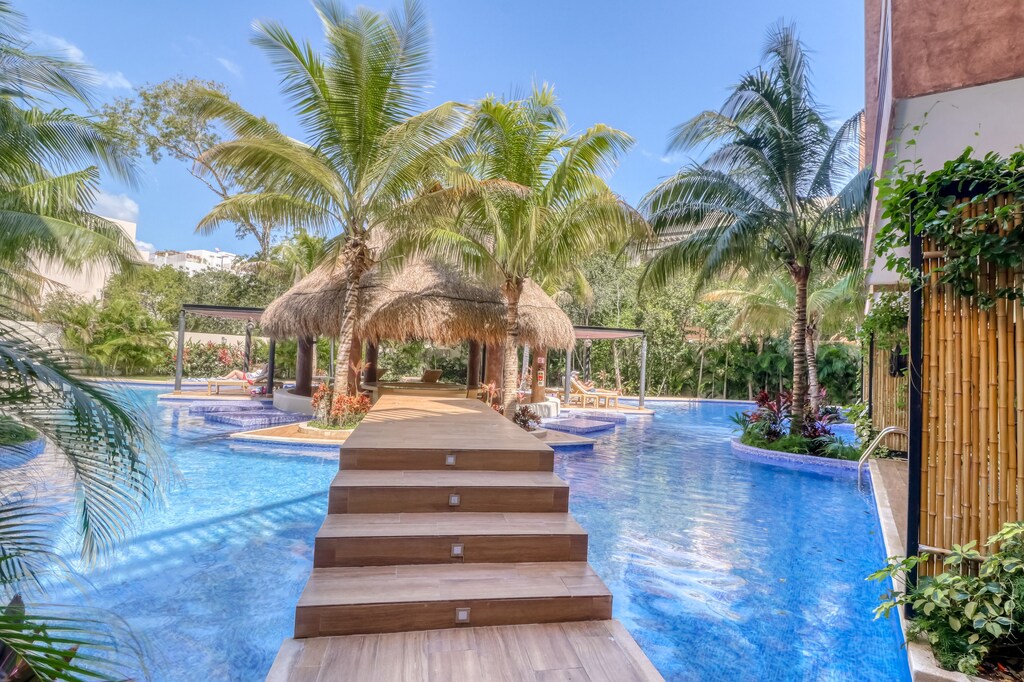 What Past Guests Have Said:
"This place was perfect for us. The hosts and employees at the complex where super friendly and helpful. We were offered two free cleanings in our four night stay as well, which was a huge perk! The pool area is perfect, and the apartment was ideal for us."
"The apartment is downtown, close to restaurants, coffee shops, the bay, shopping, etc. Clean. Comfortable."
"Great hosts and great building – pool area is absolutely gorgeous, a real oasis. The write up and photos are very accurate…"
---
BEST TULUM VRBO RENTALS
6. DK Tulum
View Listing: Studio Gym + 30 Amenities
🏡 Type: Entire Studio (1BR, 1BA) | 📍 Location: La Veleta (Downtown)
---
---
DK Tulum is an amazing building, and the amenities, even more so. There's everything from a gym to gorgeous pool and lounge area, and even a temazcal (sweat lodge used in purification ceremonies). If this seems too good to be true, it's not — if you don't mind being in the up-and-coming part of Tulum.
This beautiful, Instagram-worthy apartment is located in La Veleta, just south of Tulum Town (Downtown), and west of Aldea Zama. The main thing to consider about this area is transportation, and you'll either want to use your rental car to get around, or rent a bike.
The bikes will work during the day to go to Tulum Beach, or into Tulum Pueblo (AKA Downtown), located about 10-15 minutes away. It's a pretty cool ride, actually, as you'll ride right through the jungle. At night, you'll need a taxi, and the front desk staff will call one for you.
🚕💨 Pro Tip: There's no Uber in Tulum, and no Uber in Quintana Roo state at all, so you must use taxis.
---
BEST TULUM VRBO RENTALS
7. The Highline Tulum
View Listing: Ground Floor Studio Condo, with Rooftop Pool
🏡 Type: Entire Apartment (1BR, 1BA) | 📍 Location: Aldea Zama | 💦 Pool: Yes!
---
---
The Highline in trendy Aldea Zama, is the perfect setting for your dream vacation, where you can unwind or reinvent yourself. Take a dip in the biggest infinity rooftop pool in Tulum, stroll the Zen garden to relax, and cook up some fresh seafood on the rooftop BBQ grill, in this exclusive 15-unit building.
"Great location, rooftop pool and the place was clean. I stayed here for a month and had a great experience. Recommended." ~Nader H. (Read more reviews)
Inside the apartment, there's beautiful rustic-chic decor to celebrate the distinctively Tulum vibe, and a flat-screen TV with satellite channels to watch from your comfy king size bed. The kitchen has everything you'd need, including a refrigerator, microwave, cook-top and coffee maker.
The host, J. W. Oliver, can arrange for laundry service and maid services, for an extra fee. There's also bicycle rentals available, for a short and easy ride into Tulum Town (Downtown) or to Tulum Beach. Traveling with a furry companion? This Tulum apartment rental is pet friendly.
---
BEST TULUM VRBO RENTALS
8. La Tulumeña Boutique Hotel
View Listing: La Tulumeña, Downtown Tulum Hotel
🏡 Type: Boutique Hotel (1BR, 1BA) | 📍 Location: Tulum Town (Downtown)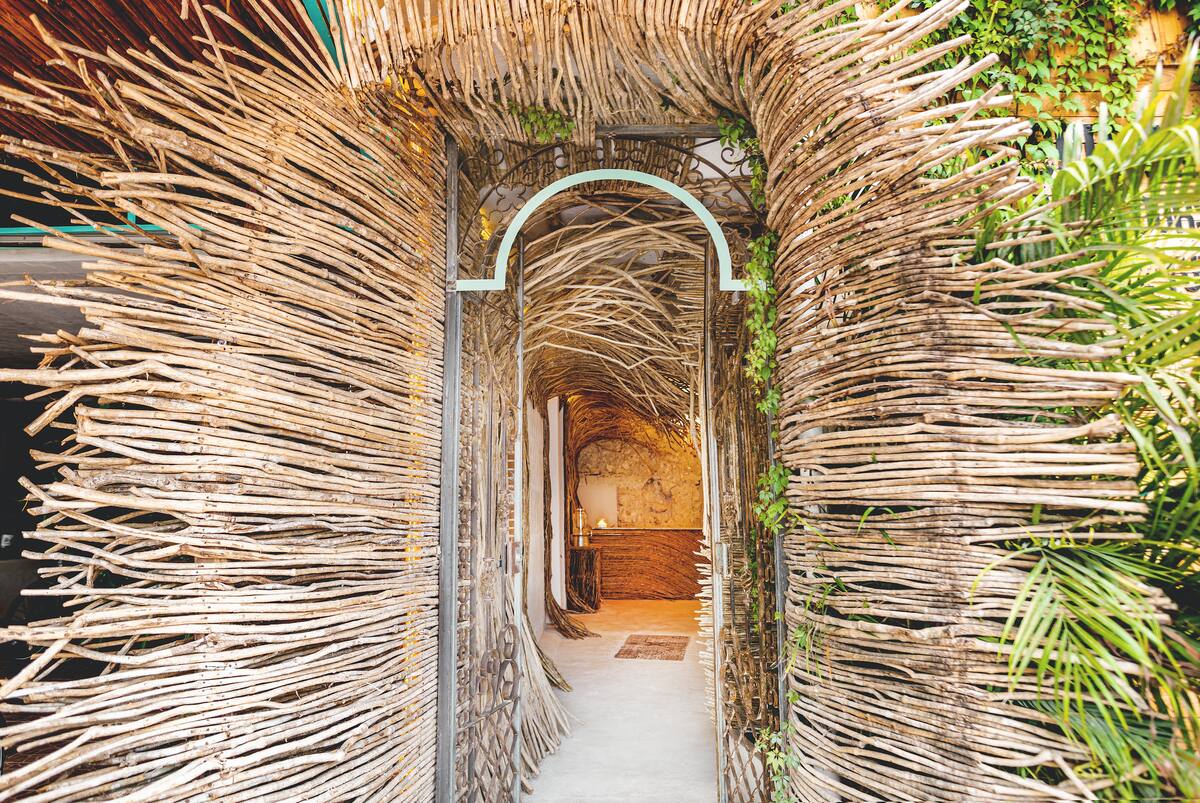 ---
---
La Tulumeña is a boutique hotel located in the heart of Tulum Town (AKA Downtown), right by the main ADO Tulum bus terminal. 🚌💨 Traveling from Cancun to Tulum on the bus? Head to the linked article for everything you need to know about the Cancun to Tulum ADO bus route.
Despite being in a bustling. and exciting location, La Tulumeña's philosophy and design is all about tranquility. From the moment you arrive, you're surrounded by gorgeous nature in a private garden setting, and immersed in boho decor and bamboo accents.
"The staff was exceptionally friendly and accommodating. The hotel is in a great location right in the heart of downtown." ~Andria (Read more reviews)
Being in Tulum Town means you're within walking distance of plenty of amazing shops, bars, restaurants and cafes. However, if you want to lounge around the beautiful property, there's an onsite restaurant and La Tulumeña offers complimentary breakfast of fresh, seasonal fruits, coffee, artisanal bread and jams, served in the lush outdoor garden.
Inside your stylish room, there's AC, a large, comfy bed, and private bathroom with hot water, towels, body wash and shampoo. De-stress on your private balcony overlooking the garden before hitting the town.
🚴‍♀️ Need a bike rental? La Tulumeña is one of the best places for a Tulum bike rental in downtown with Nubike rentals right at the hotel.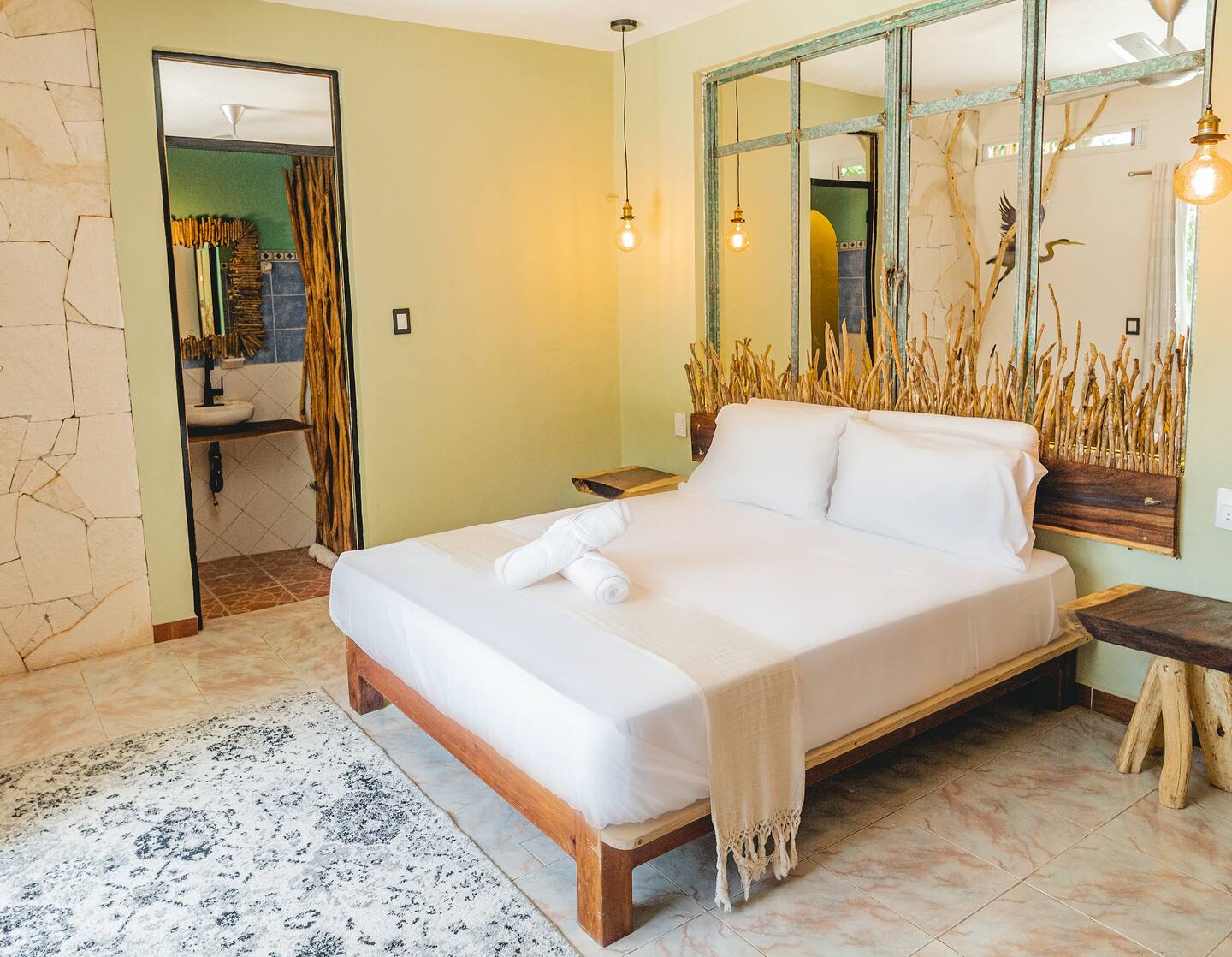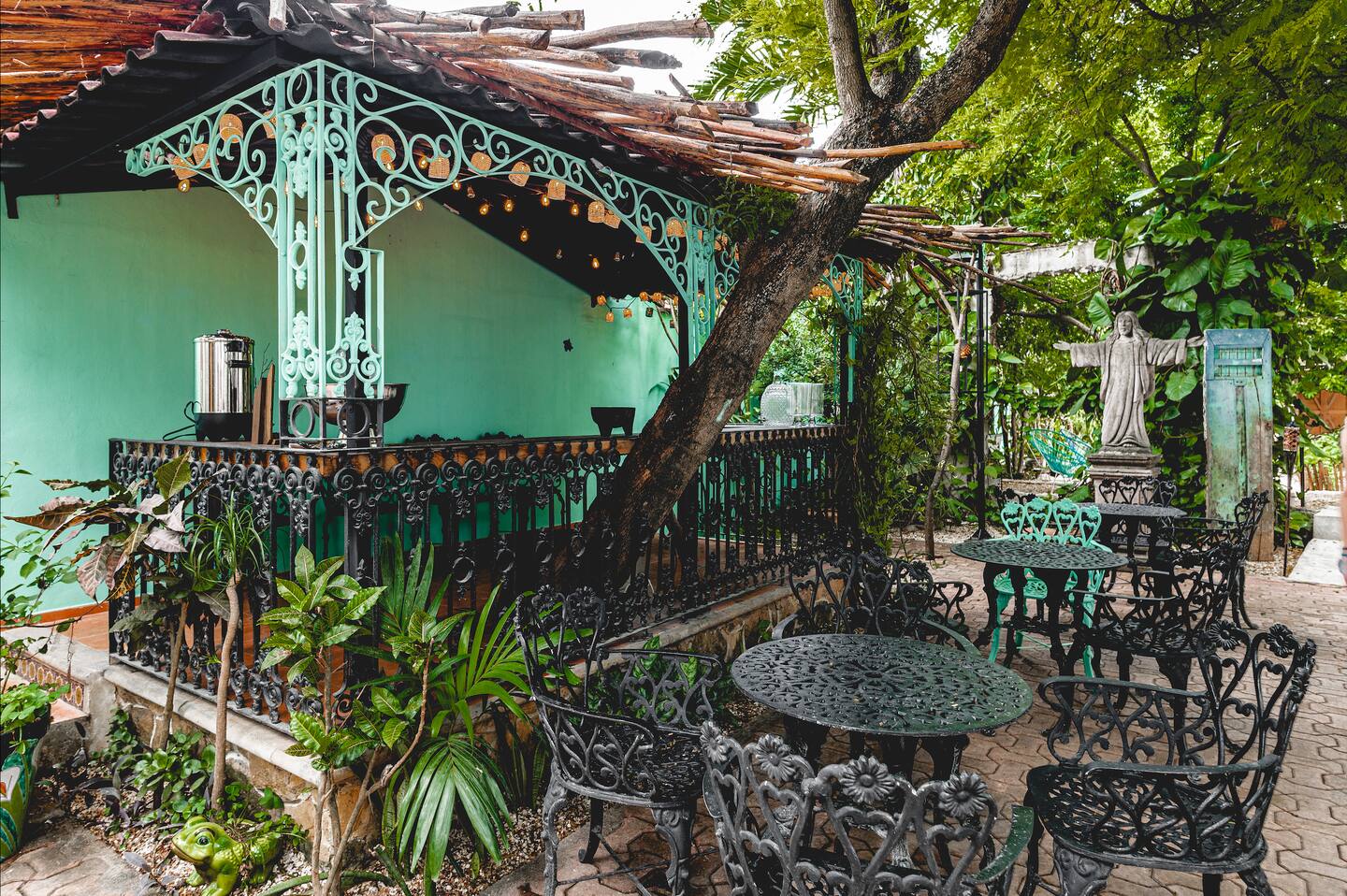 What Past Guests Have Said:
"The hotel is decorated in such a unique and precious way that it truly represents Tulum with all the bamboo… and it's wonderful having the restaurant attached with great food! Also we loved our room with the outside shower."
"The room was beautiful decorated. Nice courtyard area with adjacent restaurant/bar. You got to choose your own soap at check in which I really liked."
"Everything about this hotel is prefect, the location, price and amazing staffs. You will enjoy your stay here because it's close to everything and it's right across the street from the bus station. I can't believe how inexpensive this hotel is… Thanks for making my trip so wonderful. I'd definitely recommend it and stay here again."
---
BEST TULUM VRBO RENTALS
9. Mimosa Tulum (TeePee)
View Listing: Mimosa Tulum Hotel & Hostel
🌴⛺️ Type: TeePee (1BR, Shared Bathrooms) | 📍 Location: Tulum Town (Downtown) | 💸 Cost: $
---
---
One of the most unique places to stay in Tulum! Mimosa Tulum has four independently-designed TeePees, all clearly crafted with love and attention to detail.
The TeePees have a lot of modern, comfort-minded touches like numerous power outlets throughout, an AC, fan, and an assortment of lighting options to match your mood. As a nice bonus, you'll be provided with a complimentary breakfast each morning.
Head to the outdoor bar/pool/lounge area to hear some tunes and just chill out in this tropical oasis retreat. Mimosa Tulum regularly hosts DJs and Happy Hours at the bar, making it the perfect place to both stay and socialize.
🐶 Traveling with a furry friend? This is one of the few pet friendly Tulum resorts, and there are a few animals that live onsite.
What Past Guests Have Said:
"Really great luxury hostel and boutique hotel. Facilities are new and very well kept. Beautiful shared kitchen, better than any other hostel. Chef cooks up breakfast daily…. Good place to socialize…"
"There are four teepees that are SUPER cute and as pictured…The teepees have communal bathrooms which were very clean and stylish. The employees and guests were all super friendly and chill… I felt 100% safe here, they have bikes for rental, communal kitchen, pool, hang out area…"
"Beautiful place, comfortable, clean facilities and truly divine common spaces. Ideal if you are looking for rest and tranquility accompanied by good taste in facilities, decoration and service. Its magnificent and very safe location. Highly recommended."
Please note: Reviews for Mimosa Tulum come from various sources.
---
BEST TULUM VRBO RENTALS
10. Holistika Hotel & Hostel
View Listing: Hotel Holistika Tulum
🏡 Type: Hotel & Hostel | 📍 Location: Aldea Zama | 💦 Pool: Yes!
---
---
Holistika Tulum finds the ideal balance of luxury and ethereal vibes, perfect if you're looking to raise your frequency in Tulum! It is located near Tulum Town (Downtown), but tucked away enough that it feels very separate from the Tulum party scene.
There are both private hotel rooms and shared dorms (all female options available), so Holistika has something for all budgets. During your stay, enjoy the pool, hammocks, serene grounds with gardens and one FREE yoga class with each reservation. There are also paid classes.
"One of the most divine places I have ever stayed at. It healed my soul and relaxed my whole being. What a stunning boutique hotel. A must visit." ~Anita (Read more reviews)
Surrender to joy through diverse daily activities that will deepen your awareness with healthy practices. Holistika offers special events like cacao ceremonies, sound healing, temazcal (sweat lodge) purification ceremonies synchronized with the moon calendar, and an extensive menu of other holistic therapies.
There's even the yummy Tierra vegan/vegetarian cafe on-site, where many guests work during the day, and an Art Walk through the jungle with seven psychedelic murals.
🦟 A message from Holistika: We have a daily property bug spray at 6am and 5:30pm with organic spray that drives off mosquitoes (doesn't kill them). We recommend you bring an eco-friendly bug spray from home, since we are at the jungle after all.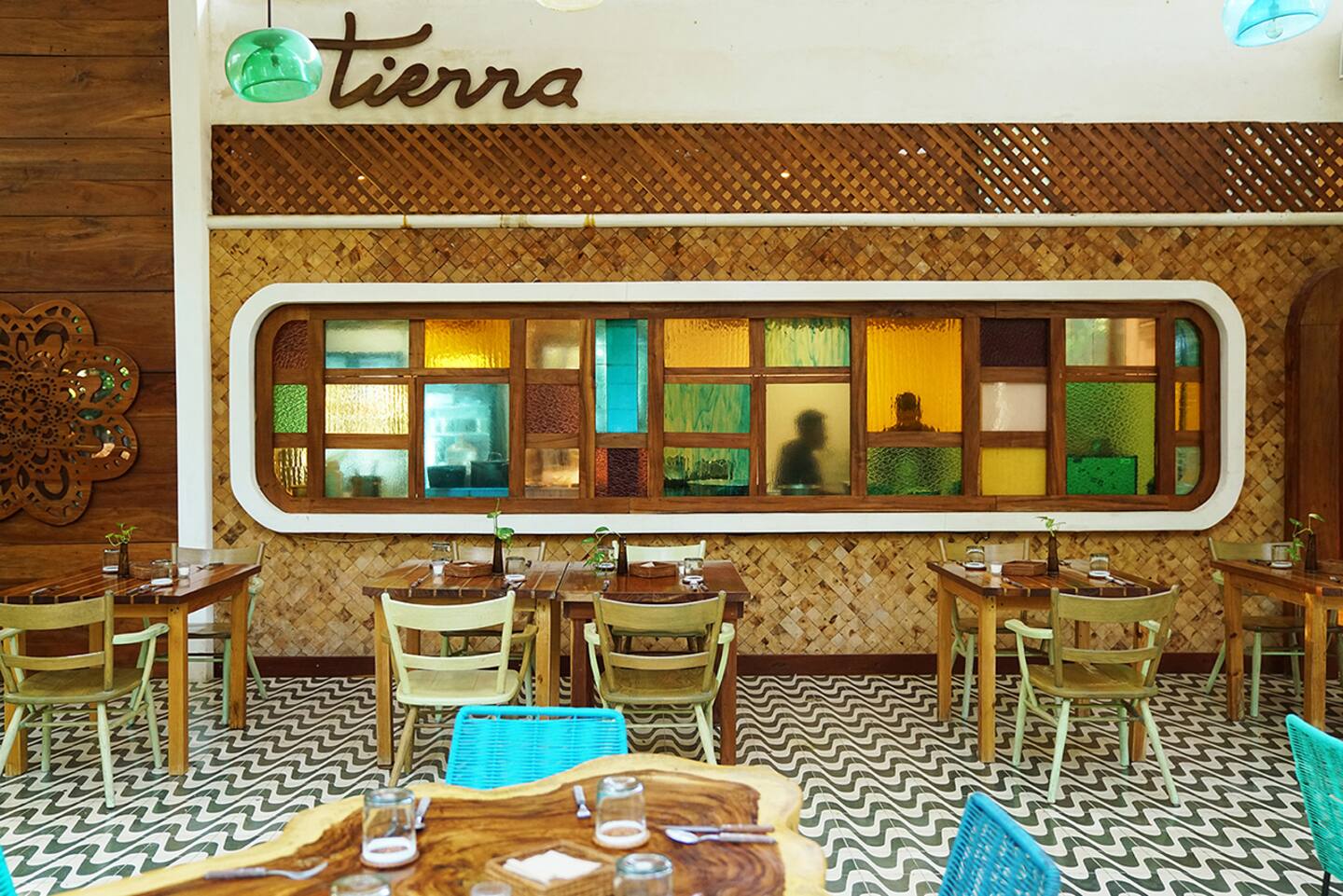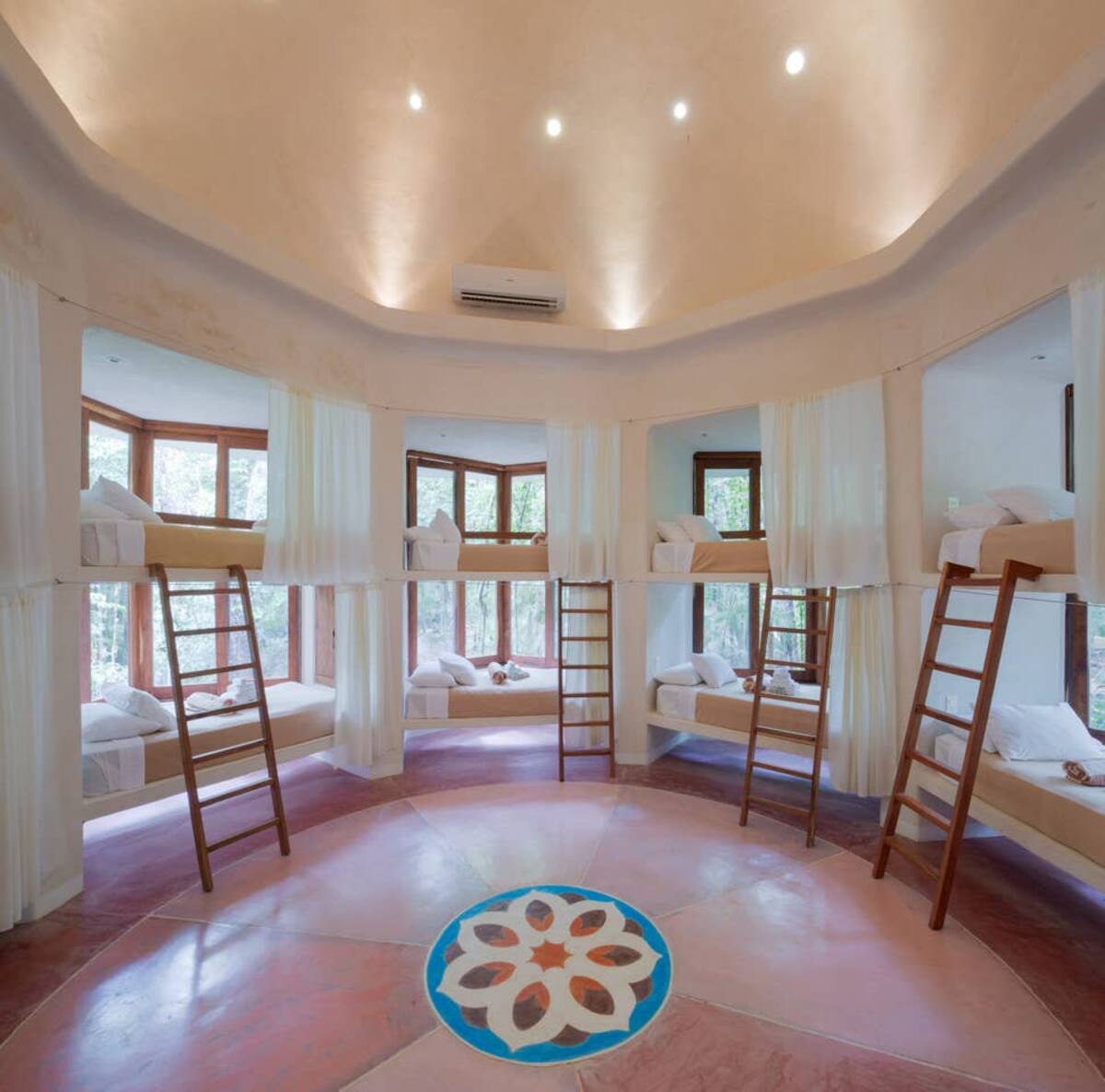 What Past Guests Have Said:
"Still one of the best places to stay, if you don't come to Tulum to party. It is quiet, very relaxing in the middle of the jungle, private, the yoga driven crowd from all over the world is interesting to mingle with, the pools are perfect for long swims… the vegetarian food is healthy, yummy and not expensive and the service is one of the best in Tulum."
"Where do I start? Holistika is an oasis in paradise. Healing energy and tranquility will come to you if you stay here. The workshops and classes they host were amazing – the facilities and teachers are nothing I've seen in the US. I cannot wait to come back <3"
"Loved Holistika, was very impressed because for the price I did not expect it to be so nice."
---
BEST TULUM VRBO RENTALS
11. Meteora Hostel & Coffeehouse
🏡 Type: Hostel (Shared & Private Rooms) | 📍 Location: Aldea Zama | 💦 Pool: Yes!
---
---
Meteora Tulum is basically the quintessential Tulum hostel! Located near Downtown Tulum on the northern end of Aldea Zama, this tropical oasis paradise is located just three miles (5km) from Tulum beach. For those arriving in a rental car, there's free street parking outside.
This well-located bohemian paradise is popular with the Tulum solo travel crowd and digital nomads alike. There are also private rooms, but as always, the economical way to stay at Meteora is in one of the shared capsule rooms.
Meteora is known as one of the best hostels in Tulum because of the amazing service, and also all their cushy amenities. During your stay, enjoy hot water, bath towels, soap, shampoo, conditioner, room-darkening shades. In the common area, lounge around and watch some with Netflix on the 75″ HDTV.
🤔 What is a capsule hostel? Capsule hotels and hostels are basically pod-type structures, just large enough for a bed, or a few beds, in the case of a pod hostel. Still not super popular in the U.S., pod hotels are quite common in Europe and Asia, and actually originate in Japan.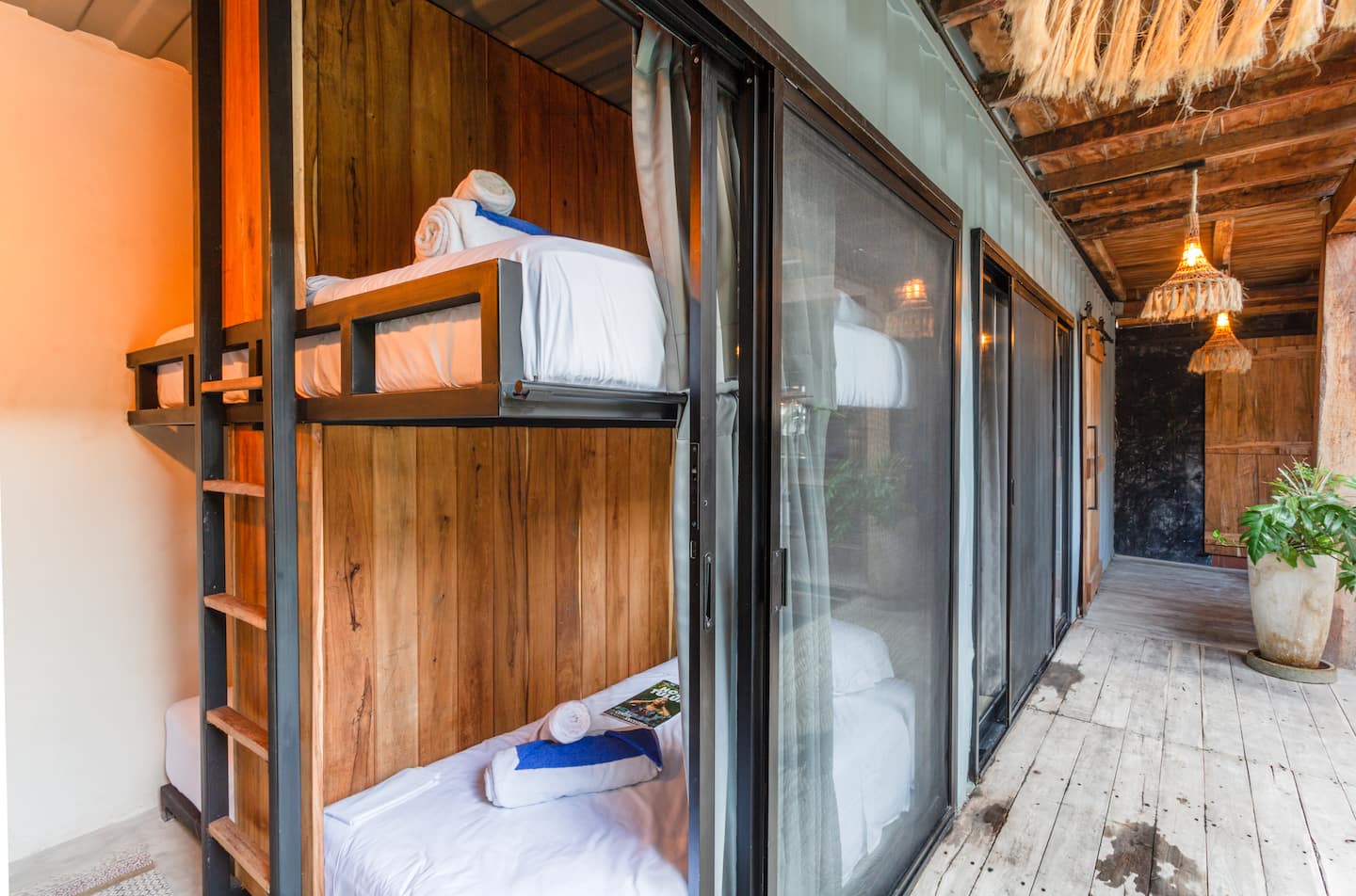 What Past Guests Have Said:
"The hostel is really modern and nice. The beds are comfortable, the showers are hot and clean, the wifi is good, location is central, the area around is quiet at night, there is a pool and a coworking space. The cafe is really good."
"I enjoyed that there is a co working station and a coffee bar at the hostel so I didn't have to leave anywhere if I didn't want to. It's in a good location, a walk away from everything you need in downtown Tulum!"
"This was super a really cute boutique hostel. The decor and attention to detail was amazing! It was really close to the food area and the downtown avenue… They also rent bikes and the food was great."
---
BEST TULUM VRBO RENTALS
Tulum, Mexico Travel FAQs
Is Tulum safe?
This is the # 1 most asked question about visiting anywhere in the country — Is Mexico safe for travel? While there can't possibly be a definitive answer to this question, I do my best to tackle this complex topic in this article, Safe Travel in Mexico: 20 Tips for Solo Female Travelers.
Given the mainstream media's demonization of the entire country, Mexico has a very bad wrap. However, this is a huge country, and yes, there are parts you should avoid… but chances are you weren't planning to head to those parts anyway — and Tulum is not one of those parts.
In fact, the entire Yucatan Peninsula is considered quite safe, not just Tulum. For the most part, all places in Mexico that promote tourism are by-and-large, safe. As tourism is Mexico's largest source of income, the federal and local governments of Mexico's top travel destinations do their part to maintain safety.
BEST TULUM VRBO RENTALS
Is Tulum safe for solo female travelers?
As mentioned, there can't possibly be a definitive answer when it comes to safety. Safety, after all, is a feeling not a fact. However, as a solo female traveler who's safely been to half the states in Mexico, I know I stayed safe by always keeping personal safety as my highest priority.
As far as Tulum safety specifically, following the same general travel safety guidelines you'd follow anywhere else in the world, will suffice in Tulum. Though it is one of Mexico's top travel destinations, Tulum does still feel like a small town.
Is Tulum safe at night?
There's no shortage of amazing things to do in Tulum at night, that's for sure; and for the most part, Tulum is safe at night.
As is probably common knowledge, the more you drink the more impaired your senses and good judgement, the less safe you become. This is not to say skip out on all the best bars in Tulum and fun nightlife — just do so responsibly to help keep you safe.
🥂 Planning to party? Don't forget your anti-hangover meds and Water-To-Go Bottle to stay hydrated.
---
BEST TULUM VRBO RENTALS
Where is Tulum Mexico?
---
BEST TULUM VRBO RENTALS
How do I get to Tulum Mexico?
Wondering, How do you travel to Tulum? Head to this article for a complete Cancun to Tulum travel guide, but the abridged version of that information is below ⬇️
The closest airport is Cancun International Airport (code: CUN), which is great because there's direct flights to Cancun from most major U.S. cities. It is about 75-miles from Cancun Airport to Tulum via rental car, shared or private shuttle and ADO bus from Cancun to Tulum.
Cancun to Tulum Airport Transfer
Do I need a visa for Mexico?
No, U.S passport holders do not need a visa to travel to Mexico. When you arrive in Mexico and go through Immigration, you'll receive a 180-day FMM tourist visa. This is a small piece of paper you need to hold on to so you can give it back to Immigration when you leave the country.
There is no charge for the FMM, but if you lose yours, there's a fine of about $600 pesos ($30USD). You'll also need to get to the airport an extra hour early to fill out the lost visa paperwork — Bottom line: Don't lose your FMM!
BEST TULUM VRBO RENTALS
What's the best time to visit Tulum?
The best time of year to visit Tulum Mexico, weather-wise, is during the fall/winter months from October-March, when the weather's cooler and not so humid. This is also the busy season, so the trade off to nice weather is more of your fellow visitors.
Located in the tropics, it usually rains daily during the peak Tulum rainy season, May-September. Common of tropical places, it often rains for 1-2 hours in the afternoon before the sun comes back, so those who don't mind afternoon showers will enjoy fewer crowds and cheaper off-season prices.
Do keep in mind Atlantic Hurricane Season runs from June 1-November 1, and being right on the Caribbean Sea, Tulum is susceptible.
Tulum Weather
Below is an idea of what you can expect from Tulum Mexico weather, and in general, Yucatan weather averages. Tulum's rainy season tends to run from mid-May through mid-October — and you can expect heavy rain storms during the rainy season.
🥵 Pro tip: Especially in the summer months, Tulum temperatures often feel 10°F higher because of humidity. Make sure to pack your reusable water bottle, and better yet, a Water-To-Go Bottle, which will add an extra layer of Mexico water filtration — so you don't get the dreaded Montezuma's Revenge on your Tulum vacation!
BEST TULUM VRBO RENTALS
What do I pack for Tulum?
Tulum Mexico, and the Yucatan Peninsula, have a tropical jungle climate. As you can see by the Tulum weather chart above, this part of Mexico is hot (and humid 😥), so don't forget these items:
As far as how to dress — anything goes — you can dress as casual or as extra as you'd like.
For the Tulum vibe, think flowy, tropical, breathable, cotton, and light-colored clothing; bonus points for anything that doesn't show sweat! Besides all your summer-wear, you may use a light cardigan at night and comfy sweats to sleep in, but Tulum is the place for sundresses and bathing suits.
👙 Wondering what to wear in Tulum? Head here for some Tulum outfit inspo!
FREE Printable Packing List for Mexico
Need a more detailed what to pack for Tulum and all of Mexico? Download your FREE printable packing list for Mexico below — it covers both Mexico beach packing and Mexico city packing. This multi-page Mexico packing checklist covers everything to bring, and more importantly, what not to bring to Mexico.
BEST TULUM VRBO RENTALS
Final Thoughts: Tulum VRBO Rentals
Traveling to Tulum is a bucket list Mexico beach town vacation for so many!
However, keep in mind that if you're headed to a place famous for its eco-friendly bohemian vibes. This means you're not headed to a place that always has great WiFi, some homes have electricity restrictions to lower their carbon footprint, etc.; however, this is part of the charm of Tulum.
I spent about two months in Tulum, and found that the people who didn't enjoy it, hadn't properly managed their expectations. Tulum's vibe is rustic fancy — but it's definitely rustic. Keep this in mind and you'll have an amazing trip, and an amazing stay in any of these amazing Tulum rentals.
Did we miss any under $99 Tulum VRBO rentals?
Please join the conversation in the comments down below and share your knowledge!